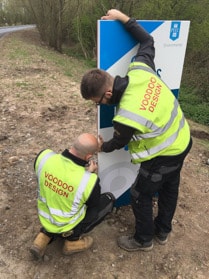 Signs that are manufactured must be subsequently transported to the sites where their use is intended, and then fitted in the desired locations. This practice is known as sign installation. Sign installation is a skill comprising many techniques and regulated by both statute and by practical considerations.
Signs are very often installed in locations that are conspicuous but that present difficulties in terms of access. Such locations may be exposed and at great height. Locations may require that personnel be certificated appropriately for example in airports. Locations can be in areas with heavy traffic or that are densely populated.
Good sign installation practice is driven by strong project management and well managed surveys. Surveys in particular ensure that both the sign and the team responsible for its installation, encounters no surprises that are not known to the project plan.
Installations often involve ground works. For example, a free standing sign sometimes known as a totem sign or a monolith sign, must be bolted or otherwise affixed to a footing means sufficient to support the sign and resist any forecast wind-loading. Electrical services must be supplied to the sign too and this will be the responsibility of the sign installation team.
Sign installation may on some occasions involve the removal and disposal of existing works. Again this is a job that may face added complexities if the location is difficult. Access often has to be planned and agreed with local bodies before works can proceed. Such processes are undertaken by competent sign manufacturers.
Sign installation is typically undertaken by crews who travel in vehicles equipped to support them. Such crews are trained engineers and electricians and are able to safely operate and provision powers supplies where needed. Sign installation is very rarely undertaken by the end-user due to access difficulties and the need for specialist skills, permits and tools.