Business signs for car showrooms? We do business signs. Whether for main franchised dealers, or independent networks, we work to prescribed formats and standards to deliver the essence of the brand. Rounceval was different though. It's more about the cars than the car showroom.
The Rounceval Carriage Company, as the name ably suggests, is a destination, some call it a car showroom, where the serious aficionado can take his interest in prestige cars and, if the spirit moves him, invest in a four wheeled work of art. Its polar opposite would be a used car showroom. "That's the difference you need to get across, Voodoo."
We love a challenge.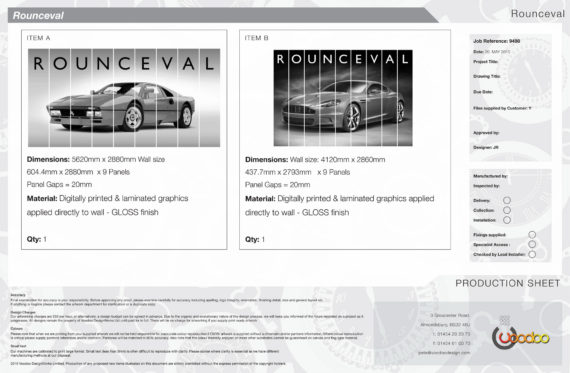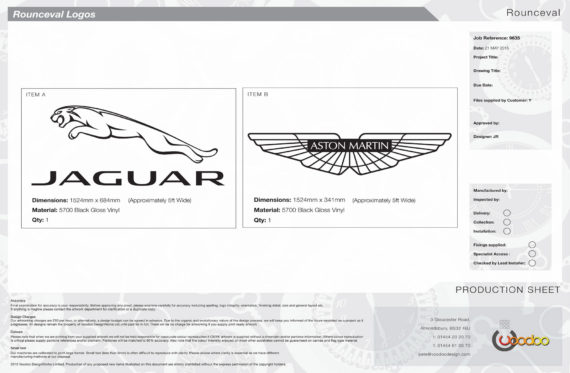 Let's send you a brochure…
It's amazing what the Voodoo DesignWorks could do for you. It's all in our brochure and we have one with your name on it.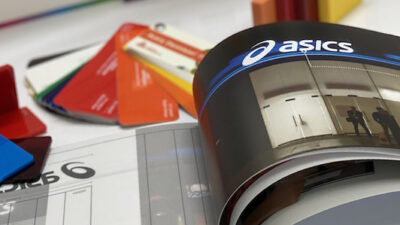 It's about ambience. Or rather, "it's about accentuating the ambience the product itself creates" was the conclusion one of our petrol-head creatives quickly formed. We reckon he read it somewhere.
Ambience in this case is a pretty abstract concept. Old cars, of the prestigious marque persuasion, have a certain smell about them. They command the stage and set all sorts of evocative emotions running riot in the teary eyed enthusiasts that behold them. Euro-led emissions standards mean that modern vehicles are sterile and run on fresh air and chewed daylight whereas proper cars take a health snort of the hard stuff to get started and they belch a bit of hot oil out the back without too much concern. You can smell and feel it.
We took the view that the exterior business signs we'd provide would have to "confirm the destination." Typography would be important. We elected and proposed a typeface for it that relies on its classical proportions and weights, something congruent with no era in particular but definitely not a passing phase in the design cycle. We cut and polished the lettering and used nothing more than the naked eye to space and apply.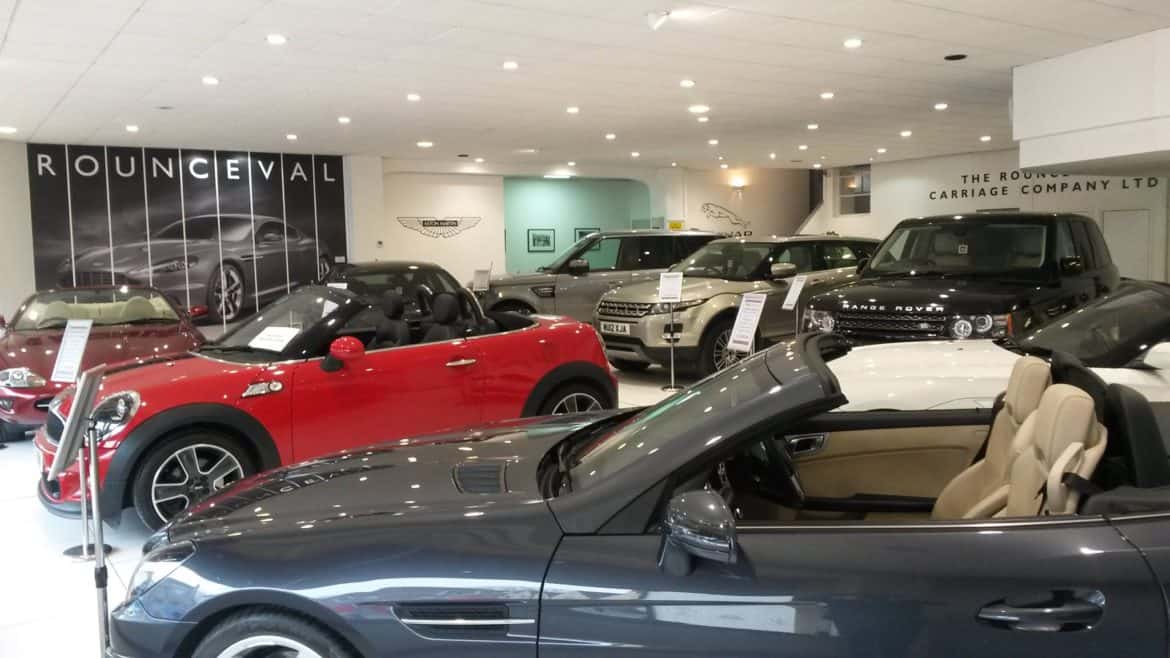 Book an online presentation and discussion with us at a time that suits you.
Voodoo-Connect delivers a live, broadcast-quality video and audio presentation and discussion from us to you and its streamed live right to your desktop and as many people as you need to invite. We can discuss your project, you can all see our samples, tour our facility and more – no need for a camera at your end because we don't see you or your colleagues.
Voodoo Connect – It's a great way for us all to discuss your project live and the quality is simply amazing.
Book your appointment now.
Moving indoors we prescribed photo-murals in the hope they'd never be seen or commented upon. We wanted them to support the ambience rather than command attention. All eyes on the product in other words without a hint of upstaging or grandstanding diverting the customers' attention. Well that worked. Our work is the backdrop for some heartbreakingly beautiful automotive magic. It sets the tone. Nothing more. Nothing less.
There's not a hint of modern tools and graphical materials in the Rounceval showroom. Despite Voodoo having used both, our work is a reflection set in a time past and it's timeless because of it.
We like the business signs we made for Rounceval and they were pretty happy too. In fact one family member here actually put a car in their hands in the hopes of it finding a new home – it duly did.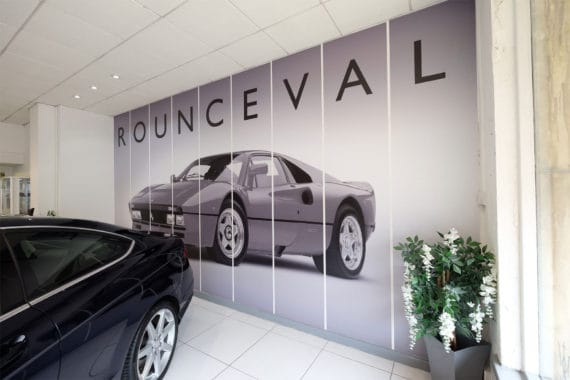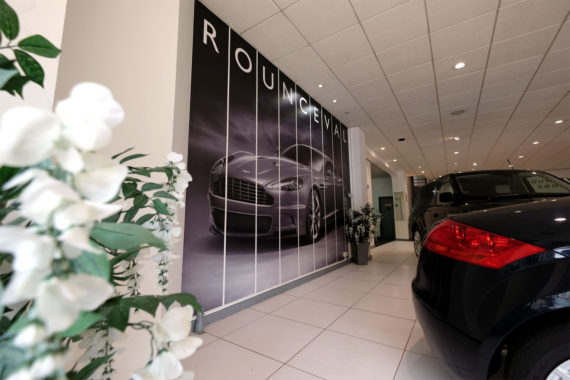 If Rounceval makes a point on behalf of Voodoo it's this. Great design is founded in contrasts. In this case it's a contrast with the era we now live in. That's not to say though it's all OXO tins and sepia. It's about Voodoo and its ability in finding a design basis that successfully evokes no time in particular. We managed that but admit that it took some thinking.
We've worked and made signs for lots of car showrooms. New car showroom signs are a different proposition altogether. There, showroom lighting has to accentuate the positive. In the case of Rounceval, the positive is a thing that's taken. It's a destination and it's all about the cars – thanks to Voodoo it's the cars you see. Our work is something you only feel. Get in touch and let's see if we can do the same for your business.
If you're ready to discuss your project we're ready to listen. Let's get your ideas on the table and move your sign project forward.