WE CREATE WOODEN SIGNS
Wood is a wonderful material for making signs and Voodoo DesignWorks does wonderful things with it. Nothing else looks quite like real wood.
Wood is a great material to choose for your signage if you want to communicate a wholesome warmth or make the most of its other qualities. Whether it's plain, stained, or painted, wood looks sensational. We can add years of weathering in minutes too and that makes wooden signs look even more individual.
When Voodoo DesignWorks engages with real timber the effect is never quite the same twice. That's because wood is naturally occurring and we've had nothing to do with how it's developed. And there's the point. Wood will make your sign unique. Truly, your own.
Indoors or out. Modern, rustic or traditional. Wood does what Voodoo DesignWorks asks of it. We'll do the same for you. Make it with wood.
CLICK ON ANY PICTURE AND WE'LL SEND YOU A PERSONALISED INFORMATION PACK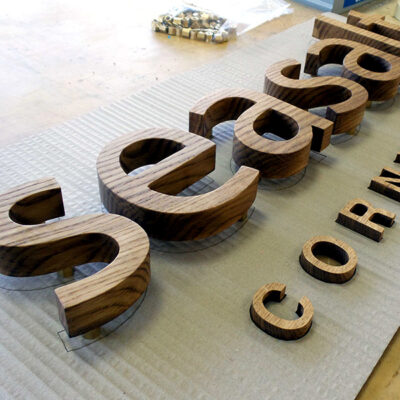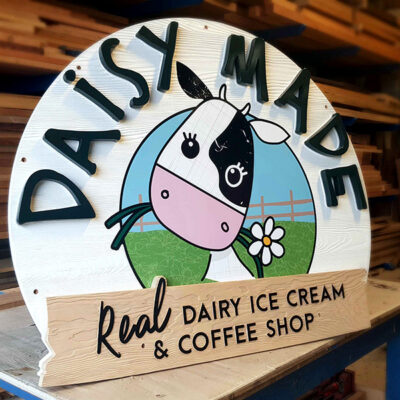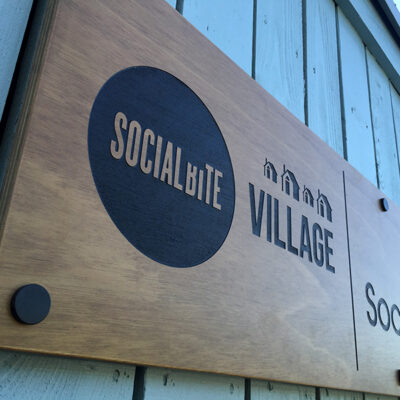 Let's send you a brochure…
It's amazing what the Voodoo DesignWorks could do for you. It's all in our brochure and we have one with your name on it.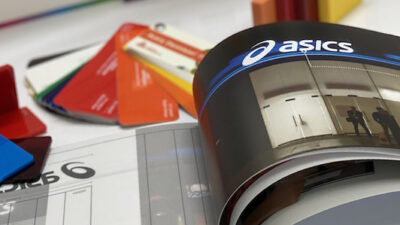 A: Seems like an obvious question at first blush but there's more to it. Wooden signs are not signs that just happen to be made of wood. They're signs crafted from wood because of the qualities that wood imparts to the finished result.
Wooden signs are warm, wholesome and truly beautiful to behold. They're made along the lines of a custom-joined and crafted heirloom, with great care. They distinguish themselves as 'wooden signs.' Signs made from other materials just don't do that.
A wooden sign is a long-term business partner. It's going to get old, but, unlike signs made from other material, it's only going to acquire a patina. Refurbishment is not difficult when needed. Wooden signs are highly individual.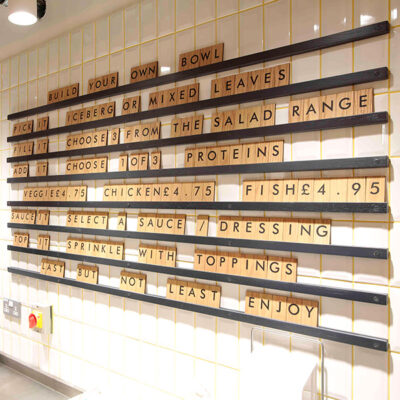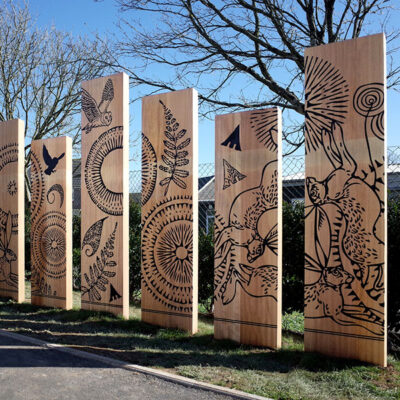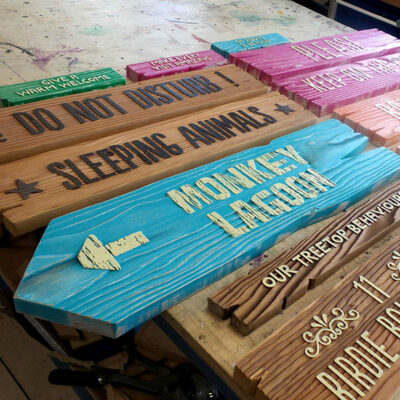 Q: How are wooden signs made?
A: There's lots of ways of turning a chunk of wood into a sign and we've practiced at most of them. We've got some amazing machinery that can cut, carve and engrave timber, and we've got the manual skill needed to take over from there and make it something really special.
Timber can be stencilled and media blasted too. The results are out of this world. The grain assumes deep relief and colours contrast amazingly. Never the same results twice. If you want unique, it doesn't get any better than this.
We assemble wooden signs from elements we cut too. So we can bring other materials to the party for the sake of accents and contrast. Again, the results are stunning. Wood leaves its fingerprints in such an attractive way. We make wooden signs, and we make them with pleasure.
Book an online presentation and discussion with us at a time that suits you.
Voodoo-Connect delivers a live, broadcast-quality video and audio presentation and discussion from us to you and its streamed live right to your desktop and as many people as you need to invite. We can discuss your project, you can all see our samples, tour our facility and more – no need for a camera at your end because we don't see you or your colleagues.
Voodoo Connect – It's a great way for us all to discuss your project live and the quality is simply amazing.
Book your appointment now.
Q: Where can I use signs made from wood
A: Indoor. Out. It's up to you. Wooden signs work absolutely anywhere and they always look superb. We have a few venues we like for wooden signs. Outdoors and in large spaces for example. Wooden wayfinding signs say so much more than 'this way.'
You can use wooden signs where and where there's a point to saying, this is overtly a wooden sign. Anywhere near a restaurant or a pub. Somewhere there's a craft-based art being promoted. That new shop you're thinking about…
We're not short of ideas at Voodoo DesignWorks and if the conversation involves wood, we're hard to stop. You can find out if wood is right for you by getting in touch with us. Lots of ways to do that – read on:
There's no time like the present. You can chat with us online right now or leave us a message and we'll get back to you as soon as we're available.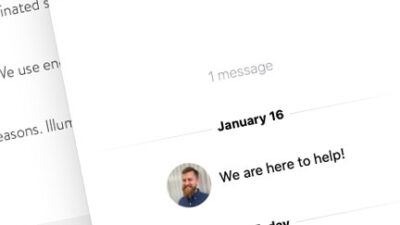 Working with Voodoo DesignWorks
Voodoo is an affordable and very capable designer, manufacturer and installer of wooden signs. It costs nothing at all to explore options with Voodoo and there's lots of ways to do that:
You can call us on 01454 202070
We can call you.
We can set up a one-to-one or one-to-many online broadcast to show you what we do – you see us, but we don't see you.
We can send you a brochure that tells you a little more about us.
We can assemble a custom information pack for you if you tell us a little about your needs.
Voodoo DesignWorks is at your disposal. We'll make the high quality wooden signs you need – and we'll do so with all of our care and experience applied. We can save you money too.
If you're ready to discuss your project we're ready to listen. Let's get your ideas on the table and move your sign project forward.