THE LOCAL SIGN MAKER AND SIGNAGE DESIGN COMPANY – NEAR YOU IN BRISTOL
"A Sign Company in Bristol…"
Sign makers, signage and signmaking are all in good company here in Bristol in the UK. That's because the city is home to the Voodoo DesignWorks.
We design and make signs for businesses of all shapes and sizes. We're a local sign company, based in the north of Bristol, not a stride from the A38 and near Bradley Stoke and Filton. We work all over the city and county of Bristol. We work nation-wide across the UK. Our signs and graphics innovations and influence are at work around the world. We'll work wonders for you and for your sign project – you're in good company with The Voodoo DesignWorks.
"A Sign Company near me…"
You're not far from the Voodoo DesignWorks and our signs wherever you are in the UK. We're a signage company with a great story to tell and our signs will help you tell yours too.
We're well qualified, were told. The modern sign design and production industry traces its roots to Bristol. Sign-systems, the materials and the design and production technologies that power the sign industry world-wide today were born here in our city. Really. The amazing things those technologies make possible were pioneered here too – by members of our team.
"A Sign Company that's local…"
We have technical and creative capabilities in depth. So the business signage we make for retailers, restaurants, shopping centres and other enterprises here in the southwest and beyond is creative, effective and affordable.
Our pylon signs point you toward Patchway. Our fascia signage makes sure you find businesses in Frenchay. Great looking banners in Bedminster – that'll be thanks to us too.
If you're looking for a local sign company but one that's got a truly expansive outlook and unparalleled experience, you don't have to look further than Bristol. It's the home of the modern sign industry. And it's the home of The Voodoo DesignWorks.
Let's send you a brochure…
It's amazing what the Voodoo DesignWorks could do for you. It's all in our brochure and we have one with your name on it.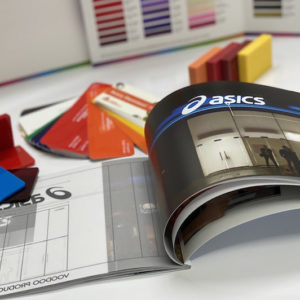 Bristol, Meet The Affordable Sign Company…
Class leading sign design and signage production come at a price. Thanks to the Voodoo DesignWorks, that'll be a price you can afford. We've delivered signs to local businesses from Arnos Vale to Withywood at prices they were delighted to pay. Shop signs to window graphics; you're never far from one of our signs wherever you are in the south-west.
How do we do it? Check out our reviews. We believe that great design delivers. Intelligent sign design helps us to produce signs and graphics that demand attention but that won't bust your budget. We can make a small budget punch well above its weight. Our services and results are available to even the smallest companies.
Whether you're running a small business in Bristol that has really big ideas, or one that's well known in the city and that would like to be better known still, get in touch with the team at the Voodoo DesignWorks. We're just up the A38. And we're up for whatever your sign project asks of us too.
The First Sign Maker in Bristol…
Members of the Voodoo DesignWorks team are associated with some of the biggest and most revolutionary design and production developments the sign and allied industries have ever seen.
We were there at the birth of computerised sign design and manufacture and we pioneered signmaking applications that are now practiced the world over.
The world's very first signmaking computer was known as The Signmaker. It revolutionised sign production. It was launched in the UK by members of the team at Backfields House in Stokes Croft, Bristol, in the 1980s.
We were there at the birth of durable digital print and we played our part in developing a market for it too. Members of the Voodoo team launched the world's first durable, direct-to-vinyl printer in Aztec West, Bristol in the 1990s. It was called The Edge. We still have one here and it does some very interesting jobs that you can't do with any other digital printer.
Like to know more about our roots and the birth of the modern sign industry? Check out the story of Spandex by founder Charlie Dobson.
Bristol Harbourside at night
Making Signs in Bristol…
Today, The Voodoo DesignWorks makes signs for a diverse range of clients here in Bristol and beyond. We work for some of the city's biggest and brightest companies. Names that have been associated with the southwest for years.
Rolls Royce – Filton…
Rolls Royce needed some wall graphics for a suite of rooms whose purpose is unknown to us to this day. So that's what we supplied. We designed them. We printed them. We then made the short trip down the A38 to the Rolls Royce factory in Filton and we installed them.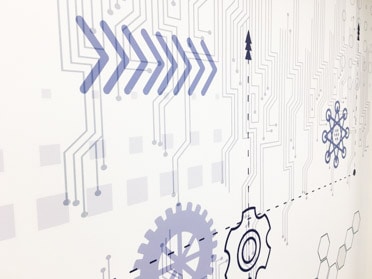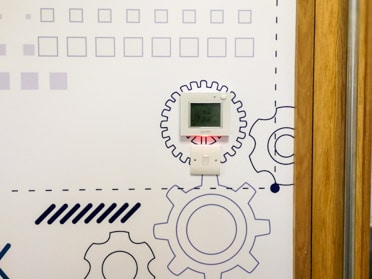 Aardman Animations – Aztec West…
You'll have heard of the Oscar-Winning film studio Aardman Animation and Nick Park. You're probably familiar with their Wallace and Grommit characters too. The studio is located at Aztec West in North Bristol it was once our next-door neighbour. It's within walking distance of our new premises today.
We were asked to supply some printed and applied decals for Grommit recently. We loved the job. It's not every day you get to work with a world-wide superstar wearing a Rolls Royce jet-pack. He looks great. And he's busy promoting a – great cause – too.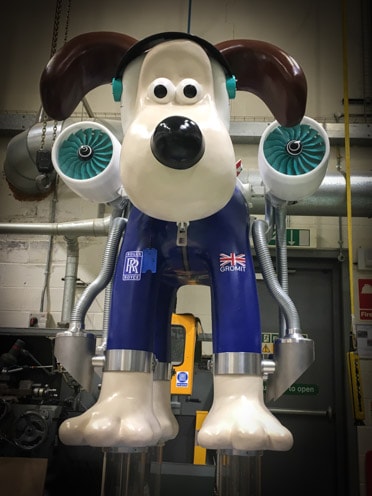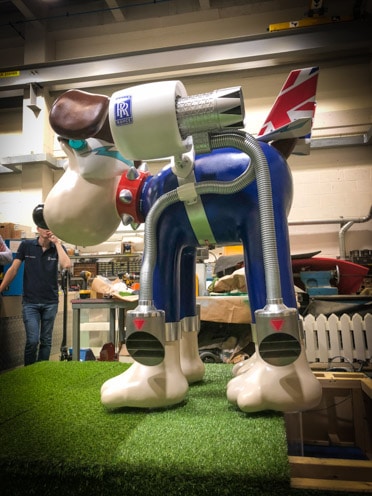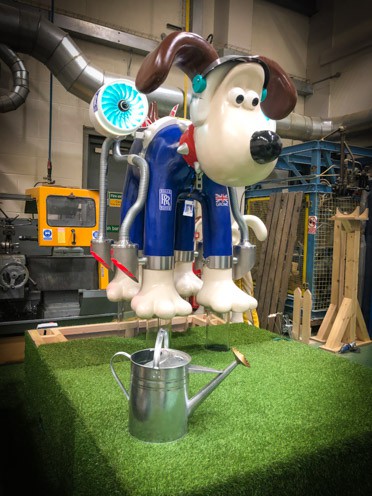 There's no time like the present. You can chat with us online right now or leave us a message and we'll get back to you as soon as we're available.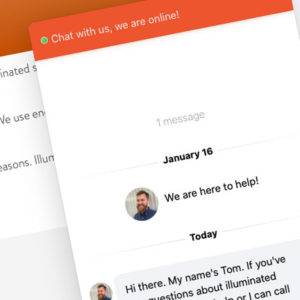 Willowbrook Centre – Bradley Stoke
We're about a mile away from one of Europe's largest new housing developments. It's the new-town of Bradley Stoke in North Bristol. It's a thriving community and it has all the trappings a fast-growing community needs. It needs signs.
The Voodoo DesignWorks has played its part in the success of Bradley Stoke's popular Willowbrook Centre by designing and installing various shopping centre signs for the busy development. Shop signage is a speciality of ours that retail businesses from all over Bristol ask us for. We've found ways of getting the job done even when the solution wasn't available anywhere else.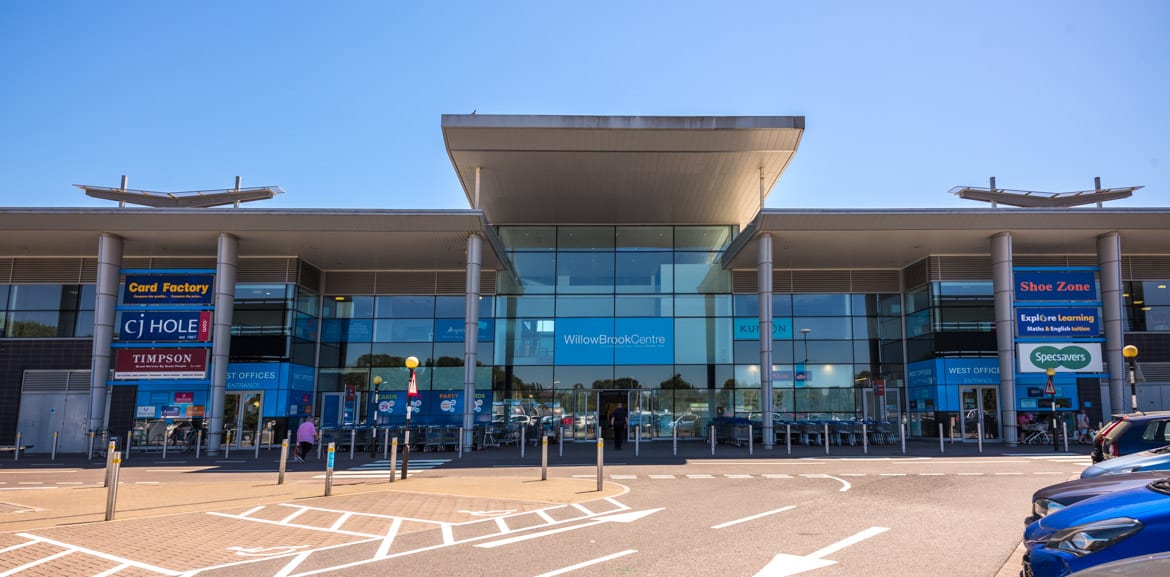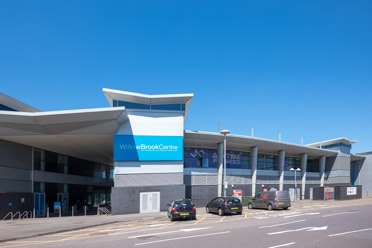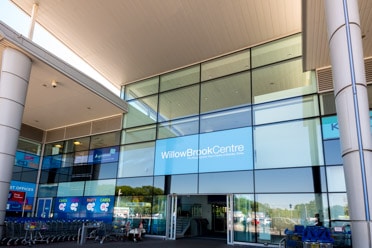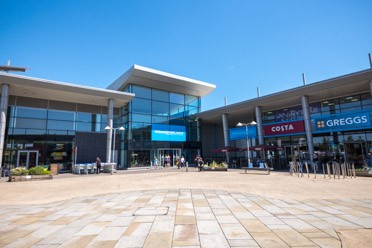 SS Great Britain – Steamship – Isambaard Kingdom Brunel
SS Great Britain – Bristol Docks
Look out of a window overlooking Bristol Docks these days and you'll see a thoroughly modern and progressive city going about its business. That's a problem when you're trying to evoke the era in which Brunel's revolutionary steamship, the SS Great Britain was born. Not to worry, we got it sorted
Working with the attraction's designers, we produced a window mural that lets a feel of the prevailing lighting and weather condition outside, in through the window, but that presents a computer generated view of the windows aspect on the old city in Brunel's time from the inside. It works. Brilliantly. Isambard Kingdom Brunel deserves no less, says Team Voodoo. He of course left his mark elsewhere with his spectacular suspension bridge over the Avon Gorge.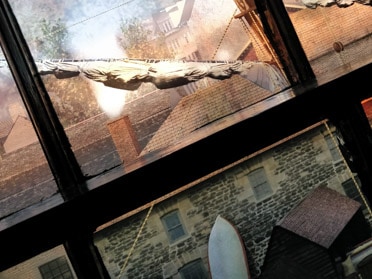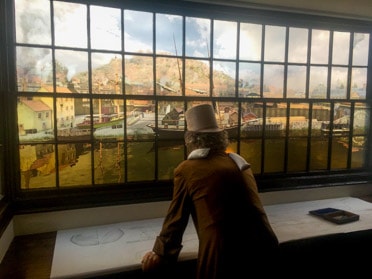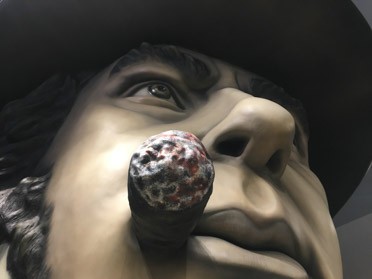 The Right Sign for Your Business
Thanks to the advent of digital printing, a technology that the team at the Voodoo DesignWorks understands well, we are asked to design and produce things that don't really fit the mould reserved for conventional signs. That suits us. We don't exactly fit the mould that would cast us in the role of a conventional signmaker either.
We're creative problem solvers here. We have to be. If you take a walk down the A38 from Southmead to the Bear Pit in Bristol City Centre you'll see hundreds of signs fronting Bristol businesses of all shapes and sizes. Some of those are signs that we've made for the local shops you'll pass. Some are the work of others. Some of the signs you'll see are very old and in need of sign maintenance. Some are relatively new. What might strike you is the sheer diversity.
In Bristol, and in other cities in the UK, the complexion of the high street is changing. Businesses that are to an extent immune from the growth of on-line commerce are filling the voids created by those which are vanishing. Restaurants are popping up in great profusion and variety for example.
Signs that have a branding job to do have in turn to reflect the values of the businesses they promote. A plastic and steel sign would "feel" wrong if it were promoting the wholesome values projected toward a vegan clientele. A shop selling high-tech gaming hardware would look misrepresented under a sign made from weathered, natural materials.
It's About Design…
Here at the Voodoo DesignWorks, we have a great working relationship with local designers and design companies. That's because we speak their language. Bristol is a creative nucleus in the UK and creatives seem to like coming to us. As we're very fond of saying – Voodoo gets it, and gets it done.
Jobs that might meet with blank looks at other sign companies, meet with nothing but engagement and action here. We had a really unusual one find its way to us not long ago that turned out to be an eye-catching centrepiece for an event.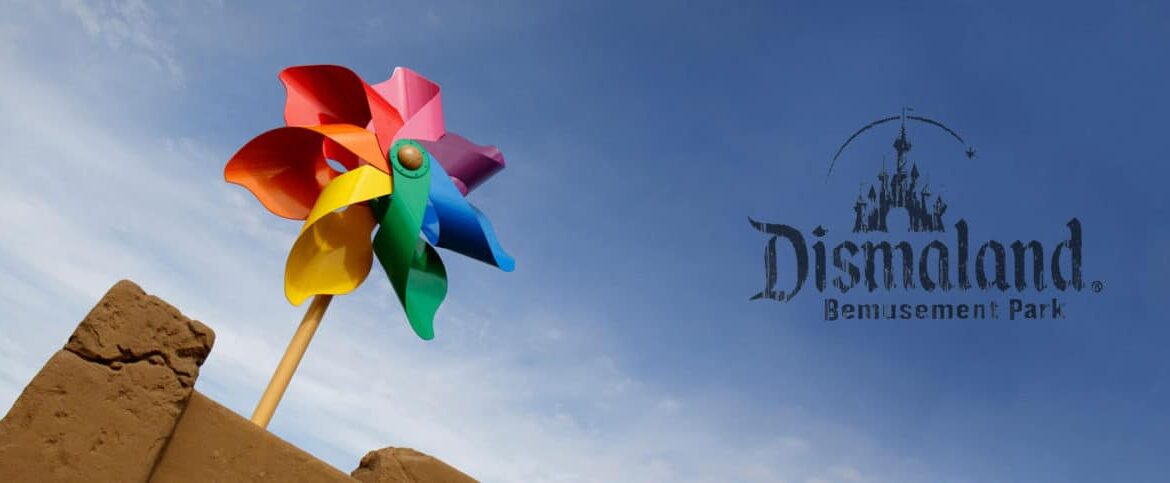 Banksy and Dismaland
Dismaland drew eyes from all over the world toward Bristol and Banksy and to Weston Super Mare just down the road and the event itself. Our contribution was a big kids' windmill stuck in a sandcastle the size of a house. Our job was making it look the part and so we ended up wrapping it in shiny, flexible plastic film. No, it wasn't easy and neither was the solution obvious. That's probably why it found its way to our doors. We love finding a way. When a designer talks, we listen. Designers see things and we find a way to turn those visionary flashes of creative genius into reality for them and for their clients.
If you're a designer in Bristol, do call in and have a chat about nothing in particular with the Team up here in North Bristol at the Voodoo DesignWorks. You have your ideas. We have our ways. There has to be something we can do for each other.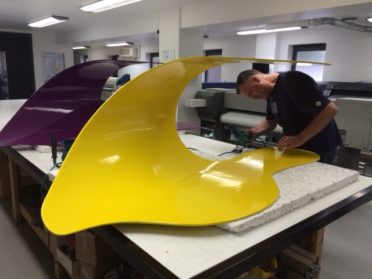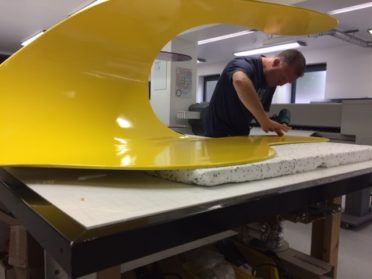 You're Invited…
Take the next step.
Whether yours is a new business venture or you want an established company sending forward under a sign that does its potential justice, give the Voodoo DesignWorks a call. That costs nothing, takes minutes and achieves a great deal.
If you're a designer with the spark of an idea that needs turning into the reality your clients are looking for, talk to us and we'll see it done.
Discuss your needs with us. We're the right company to partner with here in Bristol. We know the locality and the locality knows us. Better still, we understand our business and we value yours. You'll find no better sign company in the city to advise you and move your project forward.
We invite you to get in touch. We assure you, it's time well spent.
Driving Directions…
Leave the M5 at Junction 16 and head towards Thornbury. You will find the Voodoo DesignWorks after 400m on your left hand side opposite the Almondsbury Interchange Hotel.
Voodoo DesignWorks Ltd
Average rating:
16 reviews
Jul 16, 2018
Highly recommended
I have used Voodoo Designworks Ltd over the years for all my van sign writing plus banners that I use for my business, the quality of the work they produce is second to none. They where also amazing when I needed a new logo for my business from designing to the finished product they helped me all the way.

I would highly recommend them to anyone.
Joanne Janssen - Lowry Outlet Mall
Jul 16, 2018
Fantastic Voodoo Team
The Voodoo Team are fantastic and do an amazing job, even though we can be very demanding they never let us down and nothing is to much trouble. Everyone I have dealt with at Voodoo have been very professional and friendly especially Tony, Paul, Keith, James and Jon . Keep up the great work guys.



Thanks

Joanne Janssen ( Lowry Outlet )
Jul 14, 2018
I cannot rate Voodoo highly enough.
From someone who used to work in the sign business I can not rate Voodoo highly enough. Their attention to detail and customer service is second to none. We use them on behalf of some very important clients to us and they have always delivered on time and on budget!
Scott Lahive - Regent Arcade Cheltenham
Jul 13, 2018
A company that always delivers a bespoke job regardless of size of budget, unrivalled!!!
We have worked with Voodoo Designworks for a number of years and they continue to exceed our expectations time and time again on service, creativity and competitiveness Never complacent they have the ability to produce flawless bespoke design work that is fresh and innovative. On many occasions they have taken on project work outside of the initial scope and in doing so taken away all of the stress, they always find a solution and deliver. We are constantly delighted and blow away with their professionalism on every job regardless of the size.
Jul 10, 2018
Nothing was too much trouble
Voodoo where very helpful and happy to accommodate with are requirements, would recommended then to anyone, nothing was too much trouble
Karen Rupprecht - CJ Hole
Jul 9, 2018
1st Class experience
1st class experience of dealing with this company, would recommend highly!
Laura L - Swindon Designer Outlet
Jul 6, 2018
Excellent - would highly recommend
At The Swindon Designer Outlet we have been working with Voodoo for several years and can not fault their work. The team are all friendly and helpful, nothing is too much trouble and they often go above and beyond to find what we are looking for - that's quite often a tall order!!!

The quality of Voodoo's work is faultless, as the quality of their installation. Quotes are delivered quickly and billing is always correct.

We would highly recommend Voodoo for both their quality of work and service.
Jul 4, 2018
Great service from Voodoo Design
Great service from Voodoo Design. Very quick and efficient. James was a pleasure to work with. Thank you.
Jul 3, 2018
Always the best service from Voodoo!
They did a fantastic job for us when we had signage put on our company cars and desks. Highly recommended. George (CJ Hole).
Jul 3, 2018
Fantastic service
Fantastic service, the staff are always very professional, friendly and helpful.