WE DESIGN AND MAKE FLOOR GRAPHICS
Space is there to be conquered. When it comes to the space available for promotional signing, the floor's fair game.
Floor graphics put advertising, directional graphics and promotional messages right the at the feet of your visitors. They can't fail to notice them and, in case you hadn't noticed, floors are not exactly in short supply so there's lots of ways floor graphics can make a message stick.
Floor graphics have become even more popular of late and used as a distancing measure. What was advice one minute was law the next so it's lucky that floor graphics are easy to change. Voodoo DesignWorks' floor graphics revolve around top quality materials – so they look the part no matter how distinguished the company they keep.
Voodoo DesignWorks can design, produce and install if needed. Give your floors a voice. Floor Graphics.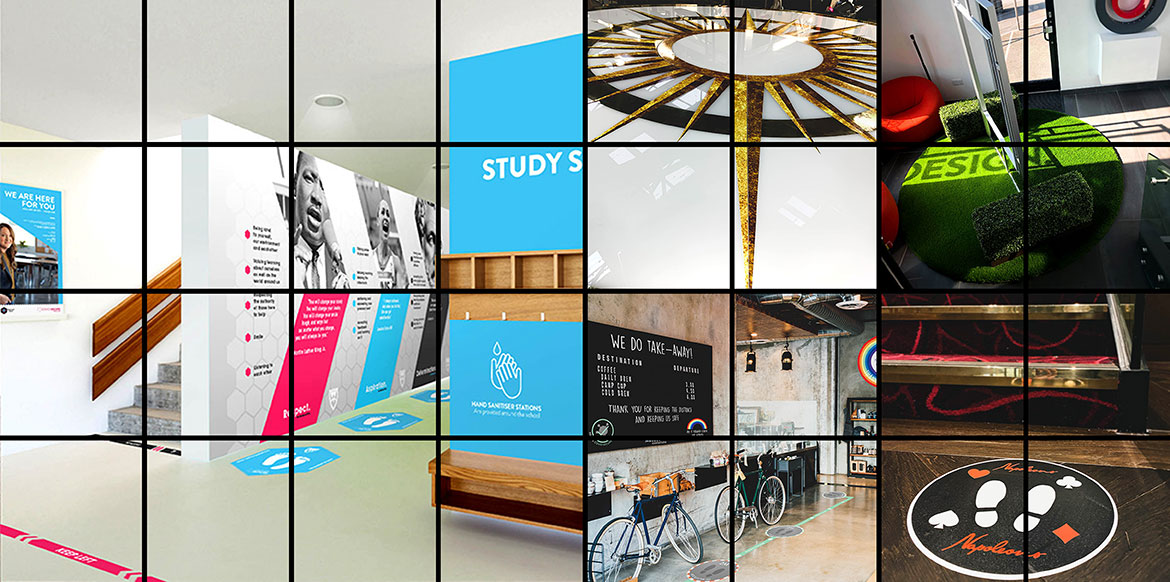 CLICK ON ANY PICTURE AND WE'LL SEND YOU A PERSONALISED INFORMATION PACK
WE DESIGN
FLOOR GRAPHICS…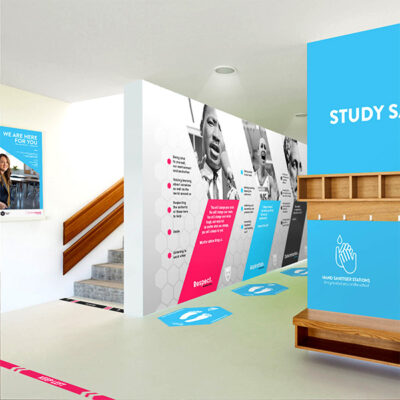 WE MAKE SELF-
ADHESIVE FLOOR GRAPHICS…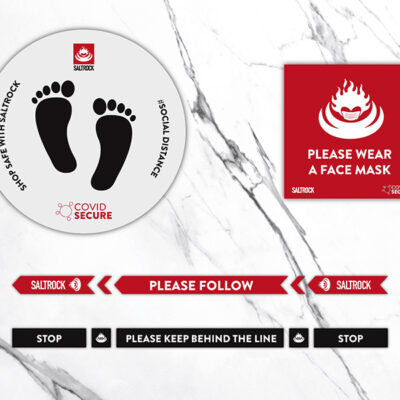 WE INSTALL
FLOOR GRAPHICS…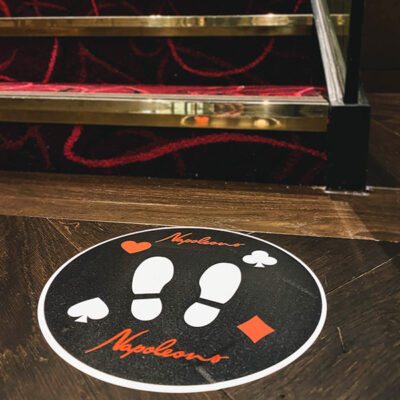 Let's send you a brochure…
It's amazing what the Voodoo DesignWorks could do for you. It's all in our brochure and we have one with your name on it.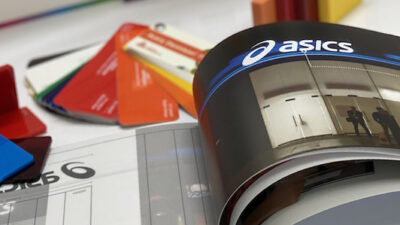 Q: What are floor graphics?
A: Floor graphics are brilliant. They're like other signs and graphics but they're stuck to flooring. Imagine how potent the message can be when the graphics delivering it pop up at floor level. It's great space – so use it.
Floor graphics are like big stickers. They are always laminated so the message doesn't get damaged and their surface is non-skid. They have a slight matt texture but still manage to look colourful and poppy.
Some graphics at floor level can be as simple as arrows and stripes for directing foot fall. In reality though, any colour, picture, pattern or design is possible so imagination can run away if that's your thing.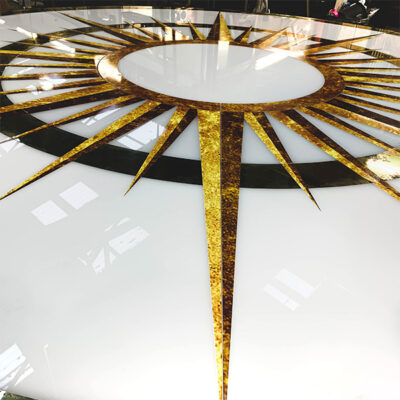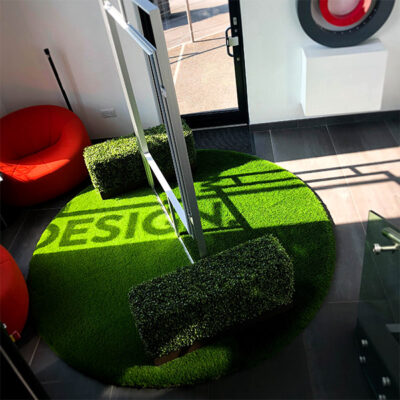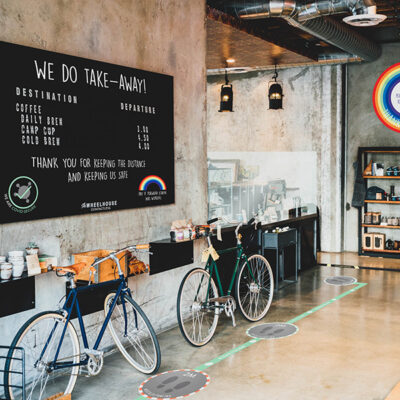 Q: How are floor graphics produced?
A: Floor graphics are digitally printed on a special material with what's known as a second-surface adhesive to hold them firmly to the floor. This adhesive is pressure sensitive so it's not like sticking tiles down.
The detail is printed on top of the applied layer of material and then its covered with a textured adhesive laminate that protects the detail and stops people who walk on it damaging the design or message. That's essential.
Installation is a simple affair but it has to be done well and with attention to the details. We aim to achieve a reliable installed graphic that's not going to lift or look shabby after a few weeks. We get that right.
Book an online presentation and discussion with us at a time that suits you.
Voodoo-Connect delivers a live, broadcast-quality video and audio presentation and discussion from us to you and its streamed live right to your desktop and as many people as you need to invite. We can discuss your project, you can all see our samples, tour our facility and more – no need for a camera at your end because we don't see you or your colleagues.
Voodoo Connect – It's a great way for us all to discuss your project live and the quality is simply amazing.
Book your appointment now.
Q: Where can I use floor graphics?
There's lot of flooring around. Not all of it is suitable for having graphics stuck to it. We'd advise you to forget very heavily textured surfaces and floors with delicate details such a tiny mosaic-like tiles.
With some exceptions most sound flooring makes a good site for floor graphics and the sort of tiled surface and flooring found in supermarkets is ideal. Beyond that, where you use floor graphics – and what you say, is up to you.
What goes down must come up so we use materials that are designed to be removable. That said, some traces of adhesive may remain and need cleaning off. Not to worry, there's a range of ways of doing that. Why not find out more about floor graphics?
There's no time like the present. You can chat with us online right now or leave us a message and we'll get back to you as soon as we're available.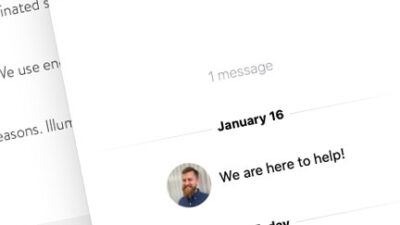 Working with Voodoo DesignWorks
Voodoo is an affordable and very capable designer, manufacturer and installer of great looking floor graphics. It costs nothing at all to explore your options with Voodoo and there's lots of ways to do that:
You can call us on 01454 202070
We can call you.
We can set up a one-to-one or one-to-many online broadcast to show you what we do – you see us, but we don't see you.
We can send you a brochure that tells you a little more about us.
We can assemble a custom information pack for you if you tell us a little about your needs.
Voodoo DesignWorks is at your disposal. We'll make the high quality floor graphics you want – and we'll try to save you a bit of money too.
If you're ready to discuss your project we're ready to listen. Let's get your ideas on the table and move your sign project forward.