BOLLARD AND LAMP-POST WRAPS AND BANNERS
Bollards and lamp-posts are capable of working a bit harder to earn a living than they do at the moment. Here's how.
With a bit of help from Voodoo DesignWorks, you can dress up a bollard or perk up a lamp-post with a temporary message or promotion. We can produce and install low-cost and yet highly visible graphics using materials that give the sign a bit of structure and that don't compromise the function of the bollard or lamp-post.
Bollard wraps are particularly effective in pedestrian zones in cities and shopping venue car park. They reach foot traffic in areas that motorised traffic can't use. They're visible from all sides and we offer numerous design options that make the whole thing very practical. Want to install them yourself? We'll pack them flat and get them to you.
Low cost promotion in desirable locations is possible. Make sure you get permission and say that Voodoo sent you and it's OK with us.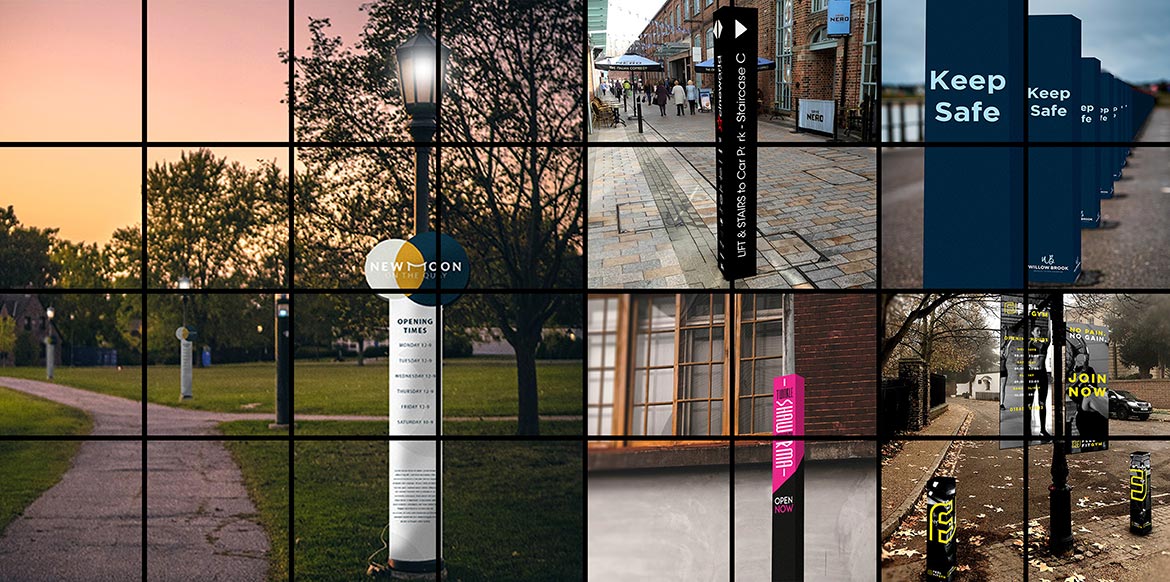 CLICK ON ANY PICTURE AND WE'LL SEND YOU A PERSONALISED INFORMATION PACK
WE DESIGN
BOLLARD AND
LAMP-POST GRAPHICS…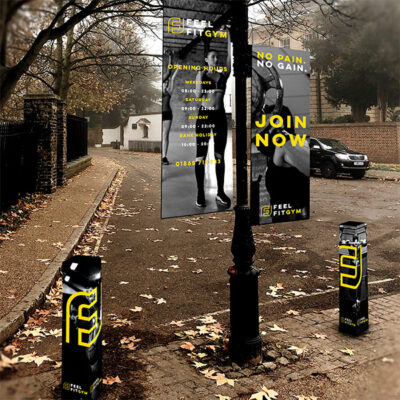 WE MAKE
BOLLARD COVERS AND
LAMP-POST BANNERS…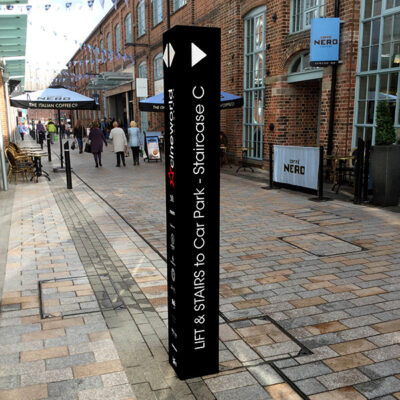 WE INSTALL
BOLLARD GRAPHICS
AND LAMP-POST COVERS…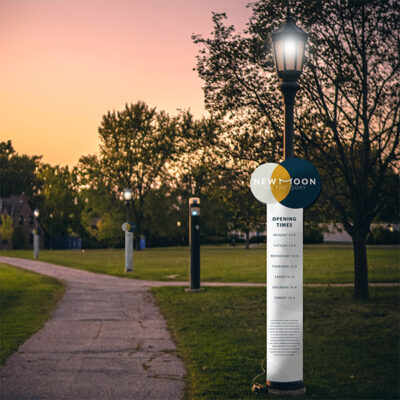 Let's send you a brochure…
It's amazing what the Voodoo DesignWorks could do for you. It's all in our brochure and we have one with your name on it.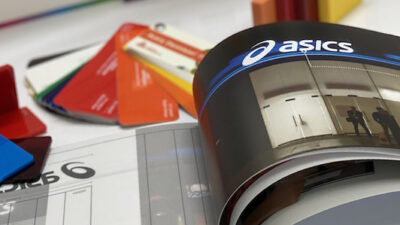 Q: What are bollard and lamppost cover graphics?
A: They're flat-packed and easily assembled structures that fit around ground bollards or lamp posts and that have four sides that can be used to promote events when they are decorated with graphics.
We do special banners designed to hang from lampposts which we suggest if you want to make a more permanent display. The system is engineered so that the wind deflects it and the graphics can be changed on a seasonal basis if needed.
Bollard and lamppost covers are strictly temporary. They are so effective though, there's no reason why they can't be a permanent feature of your promotion plans.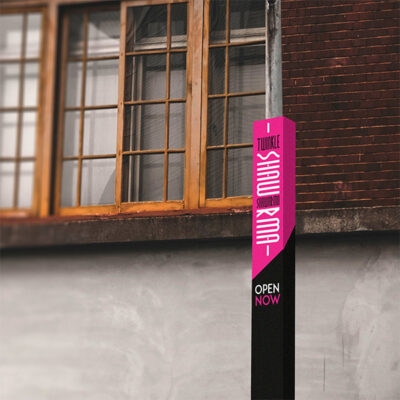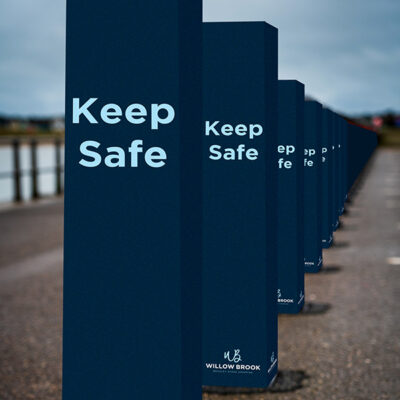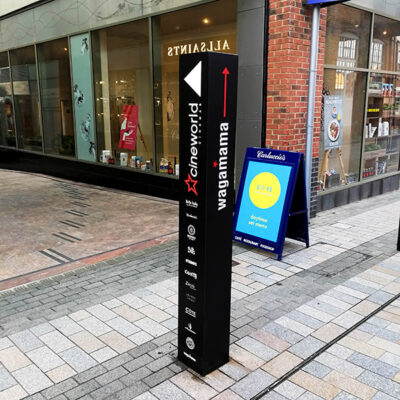 Q: How are lamppost covers and banners for bollard made?
A: The structure comprising a bollard or lamppost cover is made from a very low cost, recycled and recyclable fluted materials that has a bit of stiffness about it. We rout, or cut, that material into a foldable profile that, when formed, is surprisingly strong.
Banner systems we make from components. They are bolted into the location desired and they are considered permanent fixtures even though the messages they bear might be temporary. They support messages being changed.
The graphics for any of these systems are printed. You can have any message, design, picture or colour you want. No limits. Little impact on cost either. You can really go for it.
Book an online presentation and discussion with us at a time that suits you.
Voodoo-Connect delivers a live, broadcast-quality video and audio presentation and discussion from us to you and its streamed live right to your desktop and as many people as you need to invite. We can discuss your project, you can all see our samples, tour our facility and more – no need for a camera at your end because we don't see you or your colleagues.
Voodoo Connect – It's a great way for us all to discuss your project live and the quality is simply amazing.
Book your appointment now.
Q: Where can I used bollard covers and lamppost banners?
A: Basically, anywhere that there's a lamppost or a bollard and that you have permission to use. It pays to bear in mind that, when you cover a bollard, there's still a fully functional and unforgiving chunk of steel reinforced concrete inside the colourful printed structure. Should the covered structure meet with someone in a car who delights in wiping out promotional signage, it's the bollard that'll have the last word.
We suggest that car parks in shopping centres and health clubs or leisure facilities are great venues. Lots of space. Lots of foot traffic and great intent behind everyone's visit. Why not become your own media broker if you have a big car-park?
Voodoo has successfully deployed lots of banner and cover campaigns and we'd be delighted to do more. Whether you're familiar with the idea and want someone to manage it or you'd like to know more, we should discuss. Lots of ways of getting in touch:
There's no time like the present. You can chat with us online right now or leave us a message and we'll get back to you as soon as we're available.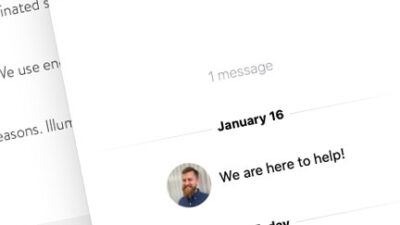 Working with Voodoo DesignWorks
Voodoo is an affordable and very capable designer, manufacturer and installer of banners and covers for bollards and posts and other means of temporary signage and promotion. It costs nothing at all to explore your options with Voodoo and there's lots of ways to do that:
You can call us on 01454 202070
We can call you.
We can set up a one-to-one or one-to-many online broadcast to show you what we do – you see us, but we don't see you.
We can send you a brochure that tells you a little more about us.
We can assemble a custom information pack for you if you tell us a little about your needs.
Voodoo DesignWorks is at your disposal. We'll get our shoulder behind solving your promotional needs – and we'll try save you a bit of money too.
If you're ready to discuss your project we're ready to listen. Let's get your ideas on the table and move your sign project forward.