WE MAKE PYLON AND MONOLITH SIGNS
Pylon signs and fabricated monoliths or totems positively tower above post-panel signage in stature and impact. Pylons from Voodoo DesignWorks tower higher still and will help your brand scrape the sky.
A pylon sign is a versatile and impressive custom-fabricated signage structure that straddles the role of a functional sign and nods toward sculptural influences too. Voodoo DesignWorks creates pylon signage fabrications that are effective, distinctive and entirely custom designed so that you can get something genuinely individual.
Totem signs, or pylon signage is something that merits discussion. They're as variable as fingerprints. That's apt because they powerfully identify the locations that use them. We can present lots of optionS because there's no such thing as a standard. Stand up if you want to stand out.
We can make pylons big and small and fit the needs of practically any budget too. Put us on your shopping list.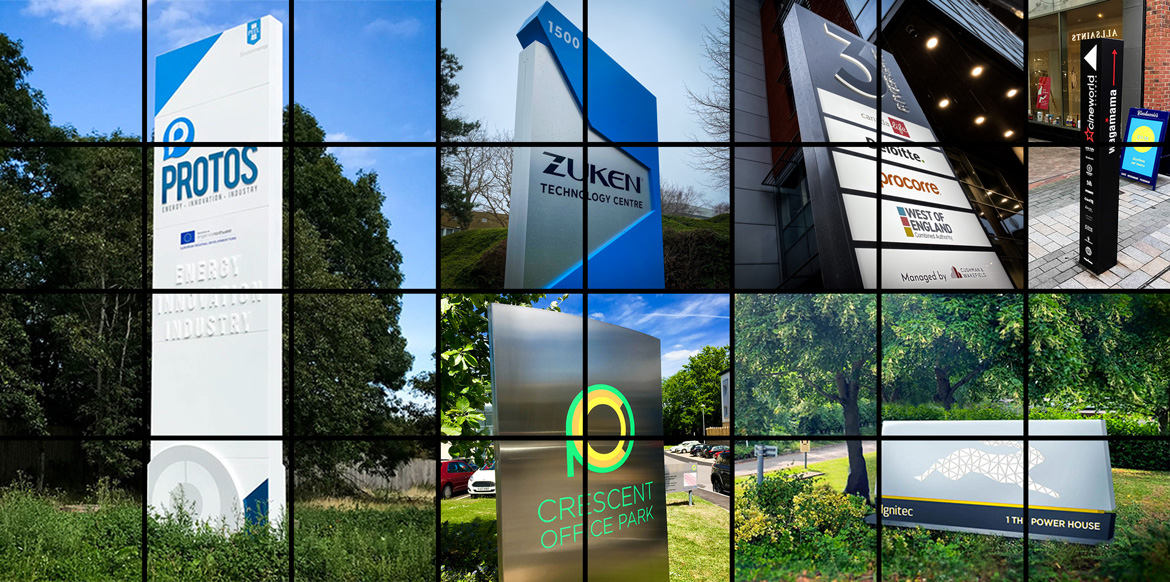 CLICK ON ANY PICTURE AND WE'LL SEND YOU A PERSONALISED INFORMATION PACK
WE DESIGN PYLON SIGNS
AND MONOLITH TOTEMS…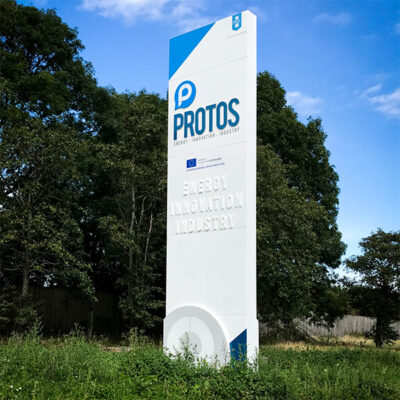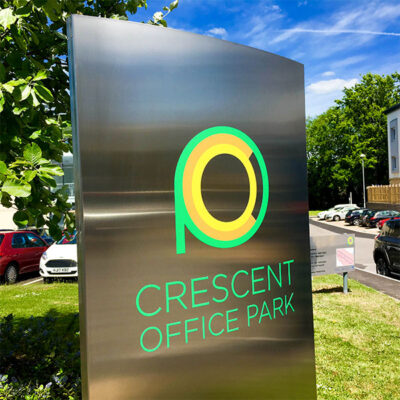 WE INSTALL
MONOLITH SIGNS…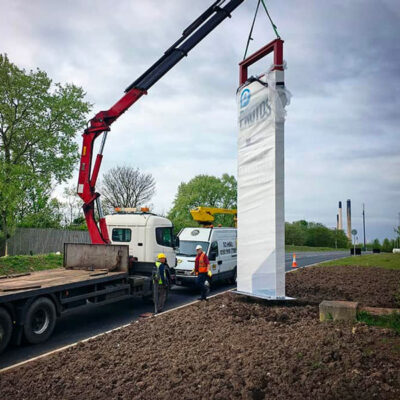 Let's send you a brochure…
It's amazing what the Voodoo DesignWorks could do for you. It's all in our brochure and we have one with your name on it.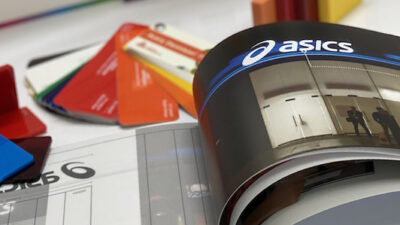 Q: What are monolith signs:
A: Monolith signs also go by the name of totems, and pylon signage. Essentially, they comprise freestanding fabricated signage structures, with two or more 'faces' and they accommodate branding or panels with sign information upon them.
Totems stand as signs in their own right promoting a single brand or message. They can also include within branding for secondary businesses or product and they function as wayfinding structures too.
Because they are custom fabricated, pylon signs have a huge remit indoors and out. There's very little in terms of need for signage that a fabricated totem can't satisfy.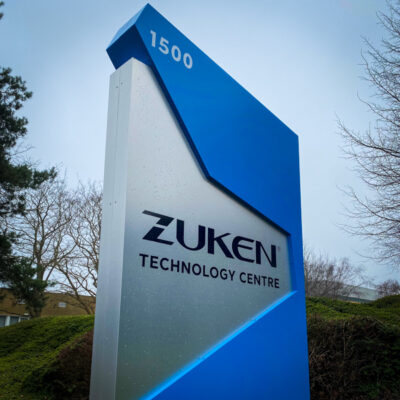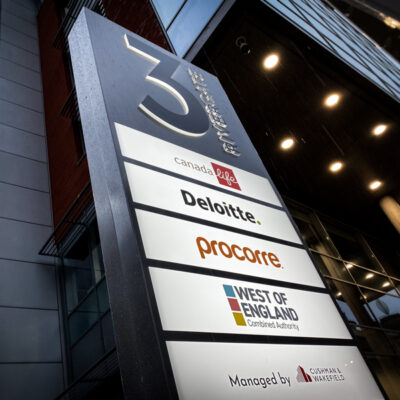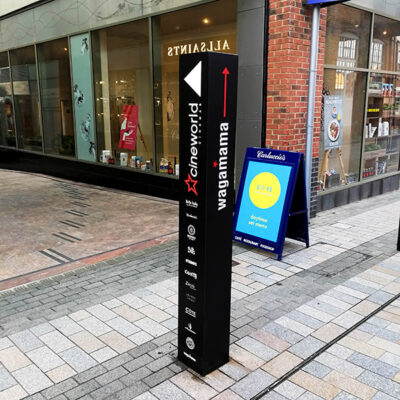 Q: How are totems and pylons made?
A: We make monoliths that are bespoke from the ground up. They can be made from an armature of supporting steelwork or welded aluminium. Panels and other details can be fixed with modern adhesives or more traditional fixings.
The finishes available are almost without limit. We have supplied masonry rendered elevations under powder coated panels, wood, plastics and other materials too. Try an idea on us, we'll probably say yes.
Monoliths can be decorated with fabricated lettering and logo elements in contrasting materials. Digital printing is popular. We can wrap structures in material bearing any colour, design, picture or pattern. You choose.
Book an online presentation and discussion with us at a time that suits you.
Voodoo-Connect delivers a live, broadcast-quality video and audio presentation and discussion from us to you and its streamed live right to your desktop and as many people as you need to invite. We can discuss your project, you can all see our samples, tour our facility and more – no need for a camera at your end because we don't see you or your colleagues.
Voodoo Connect – It's a great way for us all to discuss your project live and the quality is simply amazing.
Book your appointment now.
Q: Where can I use monolithic signs?
A: Anywhere there's a space for the surprisingly small footprint. Think stature, and where you want it, and that's what you'll get. Indoors or out. Almost anywhere. Monoliths even pop up unannounced in American deserts and on beaches in the UK…
We install quite a few totems at the centre of pedestrian flow in shopping centres. They do a great job pointing the way from there. They put industrial parks on the map. They help promote every member in a retail collective.
Monoliths are continually finding new jobs to do for spaces, places, businesses and institutions. We can show you some really cool applications if you get in touch. There's lots of ways for you to do that:
There's no time like the present. You can chat with us online right now or leave us a message and we'll get back to you as soon as we're available.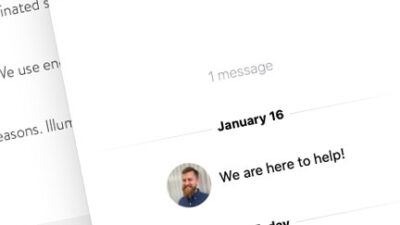 Working with Voodoo DesignWorks
Voodoo is an affordable and very capable innovating-designer, manufacturer and installer of monoliths, totems and pylons for signing. It costs nothing at all to explore your options with Voodoo and there's lots of ways to do that:
You can call us on 01454 202070
We can call you.
We can set up a one-to-one or one-to-many online broadcast to show you what we do – you see us, but we don't see you.
We can send you a brochure that tells you a little more about us.
We can assemble a custom information pack for you if you tell us a little about your needs.
Voodoo DesignWorks is at your disposal. We'll create the stand-out pylon signage you need – and we'll make sure it fits your application and your budget.
If you're ready to discuss your project we're ready to listen. Let's get your ideas on the table and move your sign project forward.