RIMLESS LETTERING AND LOGOS
Rimless, or full-face lettering and logos, look crisp and very modern in lit and unlit variations.
Rimless letters comprise a letter 'face' and a 'return' which can be in a contrasting material and which defines the construction's thickness. We can construct rimless lettering and logos in a wide range of materials, finishes and colours making them very versatile and attractive.
Rimless lettering and logos can be mounted to virtually any solid surface. Front lighting is an option and, when lit from within, the light can emit from the face and the return , the face alone, or the rear of the lettering or logo.
There's a practical lower limit on size for rimless lettering before other construction methods are preferred but very large constructions pose few problems. Using the right materials, rimless constructions can last for decades and can be refurbished.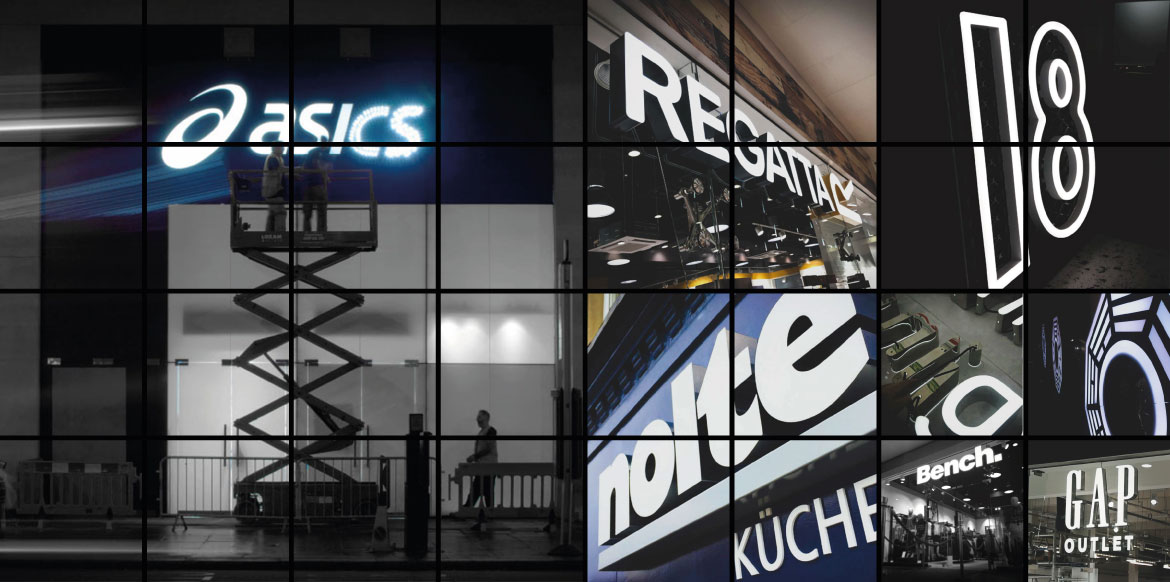 CLICK ON ANY PICTURE AND WE'LL SEND YOU A PERSONALISED INFORMATION PACK
WE DESIGN RIMLESS
LETTERING AND LOGOS…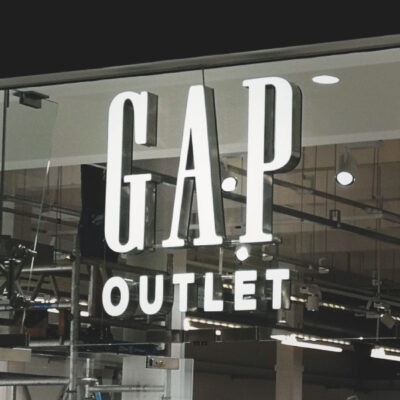 WE MAKE RIMLESS
LETTERING AND LOGOS…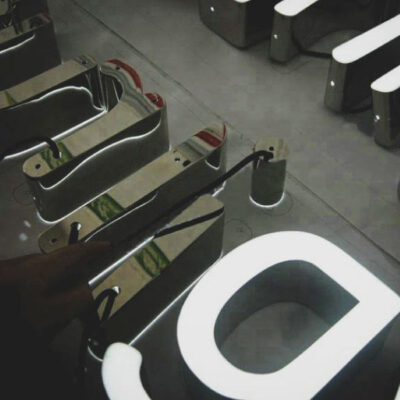 WE INSTALL RIMLESS
LETTERING AND LOGOS…
Let's send you a brochure…
It's amazing what the Voodoo DesignWorks could do for you. It's all in our brochure and we have one with your name on it.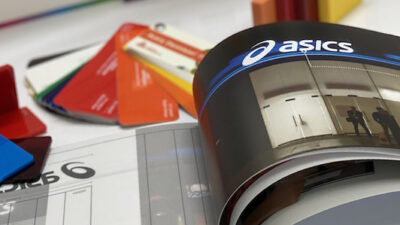 Q: What are rimless letters and logos?
A: Rimless letters and logos employ a rather tricky construction technique that mates the letter or logo's face, with its return edge without a rim being used to hold the face or disguise the joint. That means the joint has to be perfect. It has to be light tight. It has to be strong.
Rimless lettering looks so clean it's preferred in applications where the primary objective is radiating pure class and quality. So it's right to say that signs constructed around rimless techniques occupy the skilled end of the manufacturing spectrum.
Rimless lettering and logos light up beautifully and as razor-sharp in terms of legibility. The look great in most situations but excel in applications where there's no substitute for visual impact and strong dimensional presence.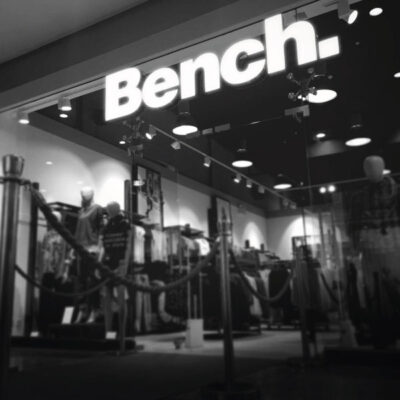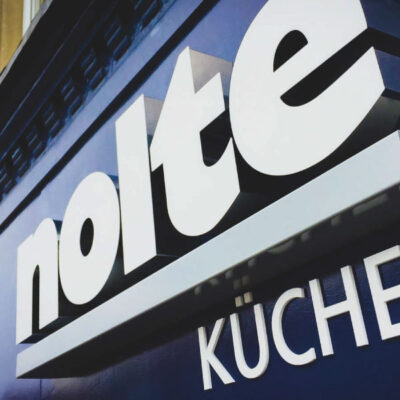 Q: How are rimless letters and logos made?
A: Rimless lettering and logos are hand built from hand-cut custom component parts cut from plastics, metals and very occasionally other sheet materials. The assembly involves high orders of precision so expert soldering or mechanical welding is used in assembly.
After the letter or logo is fabricated, edges will be finished to remove any and all evidence of joining materials. The effect is a seamless transition from the return edge to the face and a clean break across colours and contrasts.
Lighting is installed in rimless constructions with the cavity optionally being sealed. The light can halo the mounted letter or only escape its face dependent upon design intent.
Book an online presentation and discussion with us at a time that suits you.
Voodoo-Connect delivers a live, broadcast-quality video and audio presentation and discussion from us to you and its streamed live right to your desktop and as many people as you need to invite. We can discuss your project, you can all see our samples, tour our facility and more – no need for a camera at your end because we don't see you or your colleagues.
Voodoo Connect – It's a great way for us all to discuss your project live and the quality is simply amazing.
Book your appointment now.
Q: Where can rimless lettering and logos be used?
A: It's not our intent to limit the application for beautiful rimless lettering and logos so Voodoo DesignWorks advocates them anywhere space and budget allows. They cost more to build than less complex constructions but they work absolutely anywhere.
You can really put a business on the map when you brand it with an illuminated shop front sign made from rimless lettering. It stands out a mile. The quality and visual impact is without equal.
Make your rimless letters from metal and they can be used as real statement pieces in top quality architectural installations. Stainless on slate. Brass on wood. Your application choices are endless and so are the materials we can use. We'd love to talk you through, and show you the possibilities and that's easier than you think. Read on.
There's no time like the present. You can chat with us online right now or leave us a message and we'll get back to you as soon as we're available.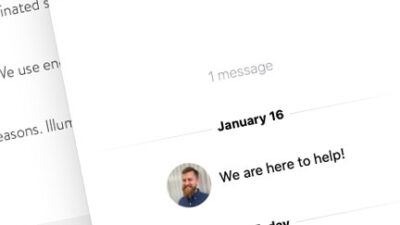 Working with Voodoo DesignWorks
Voodoo is an affordable and very capable designer, manufacturer and installer of signs made using rimless lettering and logos. It costs nothing at all to explore options with Voodoo and there's lots of ways to do that:
You can call us on 01454 202070
We can call you.
We can set up a one-to-one or one-to-many online broadcast to show you what we do – you see us, but we don't see you.
We can send you a brochure that tells you a little more about us.
We can assemble a custom information pack for you if you tell us a little about your needs.
Voodoo DesignWorks is at your disposal. We'll make high quality rimless signage you need – and we'll do so with all of our care and experience applied.
If you're ready to discuss your project we're ready to listen. Let's get your ideas on the table and move your sign project forward.