MENU BOARDS
There comes a point when your menu board starts letting the side down or confusing your customers. That's when you call Voodoo DesignWorks.
Your menu board is nothing short of a salesman. Its job isn't just to tell customers what's on the menu and what it costs. It's to make your offering appealing and to help people order what they want. We can help with that. We can design and produce a menu board that does you justice.
We offer all sorts of menu boards from simple printed and mounted articles to fully digital systems with animation and prices you can update yourself. There will be something that suits the needs of you and your business. Branding is our speciality. So you can be sure that anything we supply will powerfully reflect your identity.
Make sure Voodoo DesignWorks is on the menu where you're shopping for menu boards. We'll make sure that what you're selling looks good enough to eat.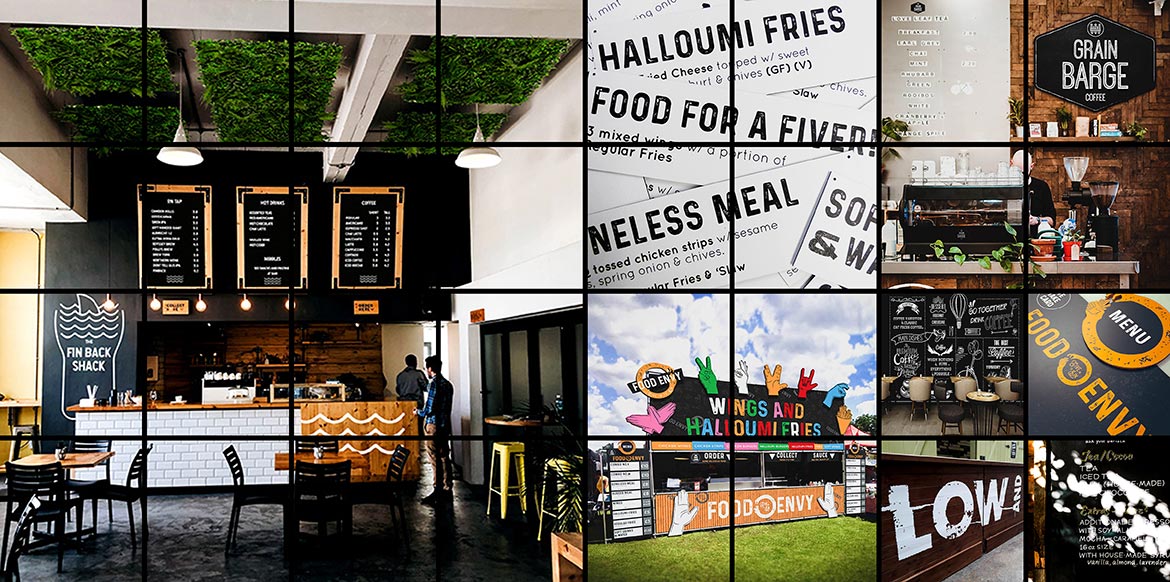 CLICK ON ANY PICTURE AND WE'LL SEND YOU A PERSONALISED INFORMATION PACK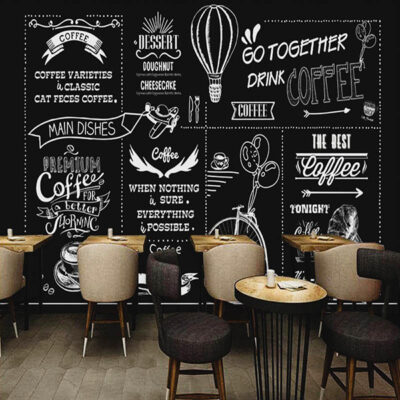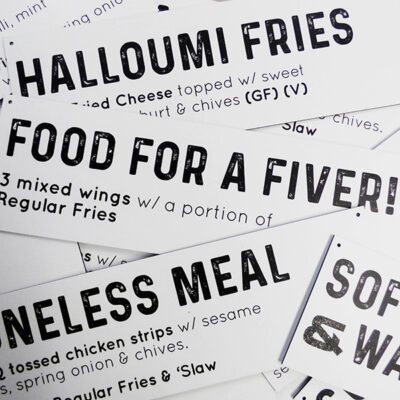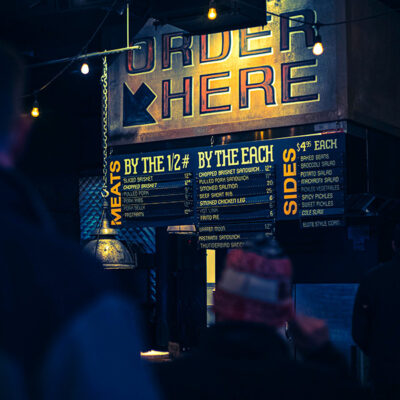 Let's send you a brochure…
It's amazing what the Voodoo DesignWorks could do for you. It's all in our brochure and we have one with your name on it.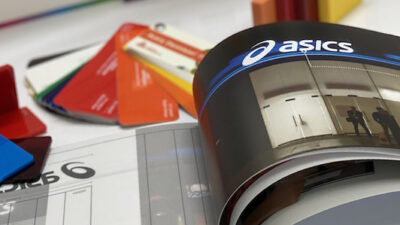 A: Menu boards can be very simple things. Some are little more than a flat panel with a little text. Others are more complex and comprise fully illustrated graphics, areas you can change yourself, and even electronic displays with variable data content.
Menu boards are ultimately there to inform. For that reason, and for others, they need to be legible and accurate. Menu boards are normally observed at close quarters. That means any graphics need to be sharp, and the text needs to be crisp too. Our high-quality print delivers on all fronts.
Custom design plays a big role in menu boards and menu systems  generally. They do much to reflect the character of the business whose goods they promote. Pictures, when they're included, even provoke appetite.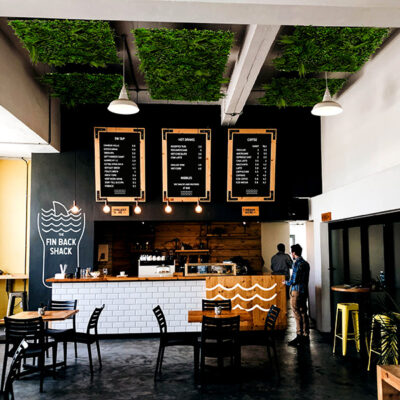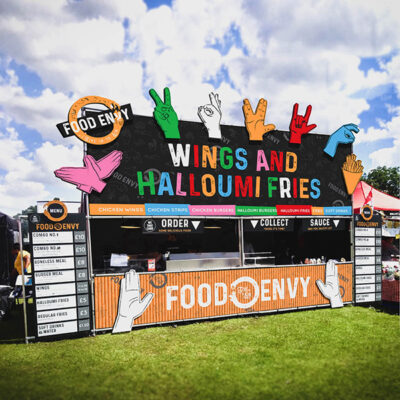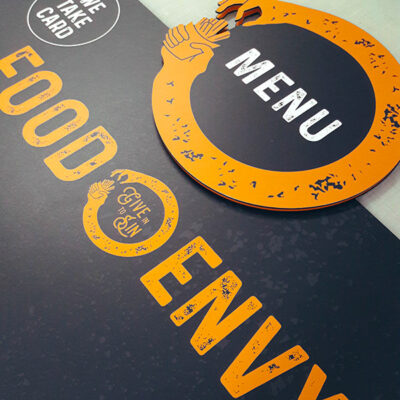 Q: How are menu boards made?
A: Voodoo DesignWorks can turn to a number of production technologies and materials to make menu boards. We use printing and specialist materials to make modern looking boards that function well and cost little. We integrate electronic systems so the displays can be variable and the content bright and appealing.
Typical instructions include framed flat surfaces with the details printed upon them, and more elaborate constructions with wipe clean surfaces and custom graphics. It is important that menus can be updated easily and many of our designs can.
Some menu boards are required to reflect a period feel. We can select materials that look aged even if they're not. That means you'll get a characterful menu that works well in your restaurant pub or café.
Book an online presentation and discussion with us at a time that suits you.
Voodoo-Connect delivers a live, broadcast-quality video and audio presentation and discussion from us to you and its streamed live right to your desktop and as many people as you need to invite. We can discuss your project, you can all see our samples, tour our facility and more – no need for a camera at your end because we don't see you or your colleagues.
Voodoo Connect – It's a great way for us all to discuss your project live and the quality is simply amazing.
Book your appointment now.
Q: Where should menu boards be used?
A: You clearly need a menu board inside your premises, but had you considered the role for something outside? Menu boards outside restaurants do a great job getting customers inside. There is a case made for having an exterior menu too.
Once your customers are inside, your menu system can really do its work. Your menu board should be in a prominent position where all of your customers can see it, and it should be attractive, reflecting both your brand and the ambient feel you're trying to set on the premises.
How about this for starters? Give Voodoo DesignWorks a ring to discuss your menu board needs before you do anything. We made it easy for you to get in touch with us:
There's no time like the present. You can chat with us online right now or leave us a message and we'll get back to you as soon as we're available.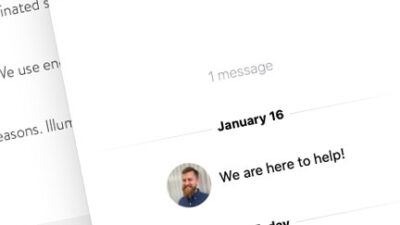 Working with Voodoo DesignWorks
Voodoo is an affordable and very capable designer, manufacturer and installer of menu boards. It costs nothing at all to explore your options with Voodoo and there's lots of ways to do that:
You can call us on 01454 202070
We can call you.
We can set up a one-to-one or one-to-many online broadcast to show you what we do – you see us, but we don't see you.
We can send you a brochure that tells you a little more about us.
We can assemble a custom information pack for you if you tell us a little about your needs.
Voodoo DesignWorks is at your disposal. We'll make the restaurant menu board you need – and we'll do so at a price that leaves change on the table.
If you're ready to discuss your project we're ready to listen. Let's get your ideas on the table and move your sign project forward.