It is said that food is consumed as much with the eyes as it is via the conventional route. On that basis, restaurant wallpaper and ambient décor can make a huge contribution to overall customer satisfaction.
That's where the Voodoo DesignWorks can help you. Voodoo designs, produces and installs restaurant wallpaper nationwide as part of its décor services. Our process is fast and it causes next to no disruption. We can work from a brief reflecting the look and feel of your restaurant. Or we can create something exclusively for you from the ground up. Restaurant wallpaper is just the beginning. We can also provide wall murals, ambience enhancing window graphics and a whole raft of other touches too numerous to discuss here.
Let's send you a brochure…
It's amazing what the Voodoo DesignWorks could do for you. It's all in our brochure and we have one with your name on it.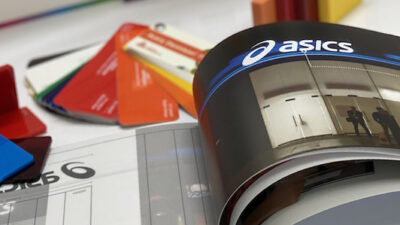 CLICK ON ANY PICTURE AND WE'LL SEND YOU A PERSONALISED INFORMATION PACK
WE DESIGN
RESTAURANT WALLPAPER…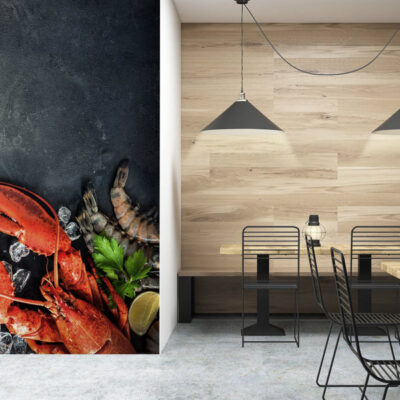 WE MAKE
RESTAURANT WALLPAPER…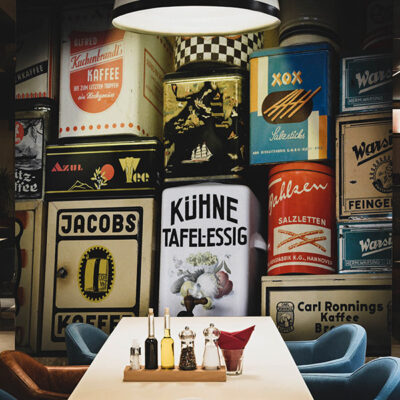 WE INSTALL
RESTAURANT WALLPAPER…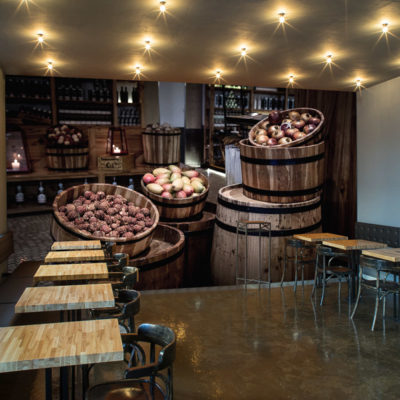 Here's how we make restaurant wallpaper thats distinctive and affordable. We print it, digitally. Consequently, you can have literally any design, colour or pattern that you want. Unlike conventional commercial wall coverings, our restaurant wallpaper isn't limited by the production process. So if you want a design that spans several drops, or a single image blown up to cover an entire wall, you'll get that from Voodoo rather than the blank looks you might get somewhere else.
Restaurant wallpaper is one of a range of commercial décor products that we offer as part of our ReStyle by Voodoo service. This service is about affordable transformation. All we need are reasonably sound surfaces to work on, and a hint of direction as to your needs. The effect is jaw dropping. Restaurant wallpaper delivers a truly massive impact that represents unbeatable value compared to paint, traditional wall covering or other finishes.
Book an online presentation and discussion with us at a time that suits you.
Voodoo-Connect delivers a live, broadcast-quality video and audio presentation and discussion from us to you and its streamed live right to your desktop and as many people as you need to invite. We can discuss your project, you can all see our samples, tour our facility and more – no need for a camera at your end because we don't see you or your colleagues.
Voodoo Connect – It's a great way for us all to discuss your project live and the quality is simply amazing.
Book your appointment now.
Our restaurant wallpaper is long lived and easy to care for too. Bumps that might irreparably damage paint or paper finishes are better tolerated. Dust and other build up simply wipes away. Fading is minimal so it looks good and goes on doing the job you want for much longer.
We can install seasonal restaurant wallpaper too. If you want to change your wall covering based on a promotional theme, our production methods and materials make that possible. You can reflect periods of celebration like major holidays. You could even cater for large party celebrations with wall coverings reflecting highly personalised birthdays or weddings should you choose.
If you're worried about the very high costs of the original content needed to achieve your décor goals, please don't. We provide very economical solutions based around creatively produced images supporting your theme. If you need a two foot high fully loaded burger blown up big to cover a pillar, we can give it to you. Think big. Be adventurous and Voodoo will get the job done for you.
Voodoo is a Bristol based sign, design and graphics company that works nationwide. We have a very impressive client portfolio and we take a special satisfaction from helping our customers make a little money go a very long way. It costs nothing at all to talk to us about your ideas and you wouldn't be the first we'd surprised with just how affordable a big transformation can be. Or just how big an impact a little of our work can make.
Next steps are easy. Get in contact and see what makes us tick.
If you're ready to discuss your project we're ready to listen. Let's get your ideas on the table and move your sign project forward.