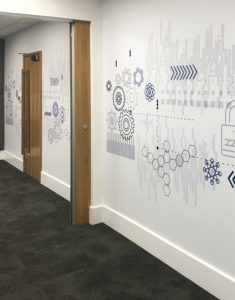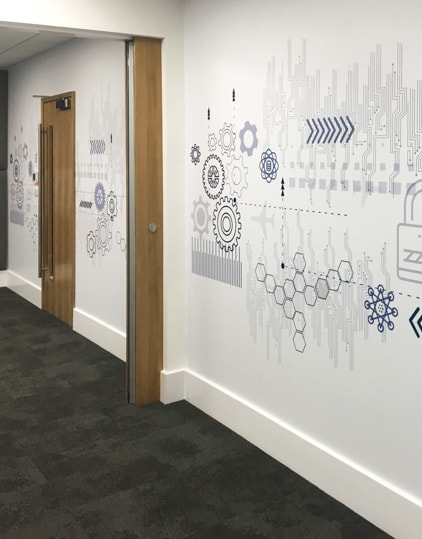 Wall Graphics represent an attractive means of transforming any expanse of wall-space, inside or out, permanently or temporarily, and in domestic, commercial or public spaces. Applied wall graphics can depict a design or pattern, a picture such as a mural, or a colour or printed texture. Unlike wall coverings, such as wallpaper, that are typically produced using printing technology which require that a design repeats at intervals, digitally printed wall graphics do not have such constraints.
Wall Graphics are produced using digital printing technology, often a wide format inkjet printer. Able to print wall covering materials over a metre wide, these printers produce photographic resolution output. The origination that ultimately drives the printer is digital too. This means that no silkscreens, lithographic plates, flexographic stereos, or engraved gravure rollers are needed and the corresponding costs are avoided. Volume driven economics are changed by digitally printing wall graphics too. Low volume are practical and affordable.
Material species are know for producing digitally printed Wall Graphics which are very similar to those materials known in the production of conventionally printed wallpapers and wall coverings. Most digitally printed wall graphics utilise material species featuring pressure sensitive adhesives and so require no liquids or pastes in order to apply them.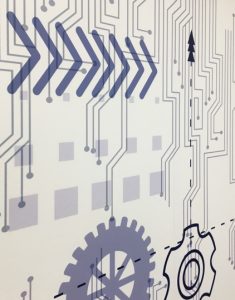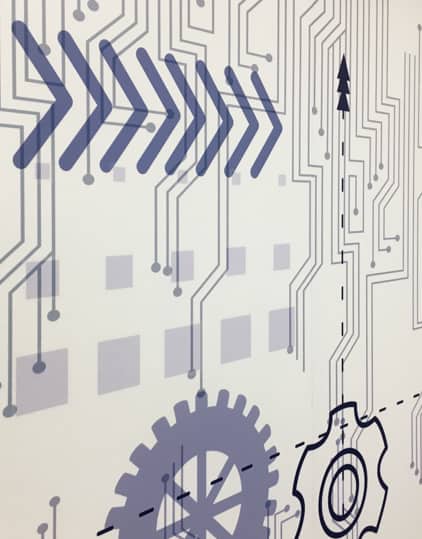 Being free of the constraints imposed by legacy printing technologies means that the content printed upon modern wall graphics can comprise practically any subject matter. For example, an agency selling dwellings could have a wall of its premises dedicated to a map of the locality. Similarly, a theme drawing on childhood could be used in a child's bedroom. Restaurants could have ambience enhancing landscapes, schools elements of curriculum material.
Applied graphics can, in commercial settings, be used for highly impactful display of data on a temporary basis. Results for a sales meeting, or infographics for example. Adhesives are known that support the clean and complete removal of applied material used in such applications.
Graphic designs for walls are often promoted by their producers and enabling the display of anything the customer is capable of imagining. This frames the subject well. Such versatility is only amplified further when it is considered that any wall or surface inside or out is potential a space that digitally printed wall coverings could transform.

Could Voodoo give your walls a voice ?
Related Articles