Regular client, Consol, came to the Voodoo DesignWorks needing shopfront signs that were anything but business as usual…
Voodoo has designed, manufactured and installed shopfront signs for Consol for years. Billing itself as the modern way to get a tan, Consol began as a great idea in Denmark. Here in the UK, its formula of state-of-the-art tanning equipment, comfortable and accessible premises and a no-appointment walk-in business model has proved very popular. The fascia signing above the shop-front makes Consol instantly recognisable.
Every time Consol opens a new location Voodoo steps up and provides the fascia signs that identifies it. That means working to a very tightly prescribed corporate ID, and making the fascia sign fit its new venue precisely. That's a lot of shopfront signs. That's a lot of locations. Thats a lot of job-to-job signmaking variations too.
Let's send you a brochure…
It's amazing what the Voodoo DesignWorks could do for you. It's all in our brochure and we have one with your name on it.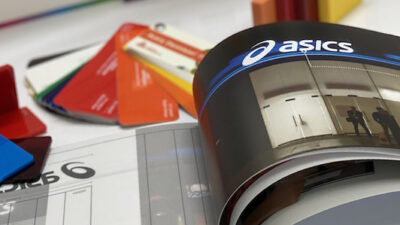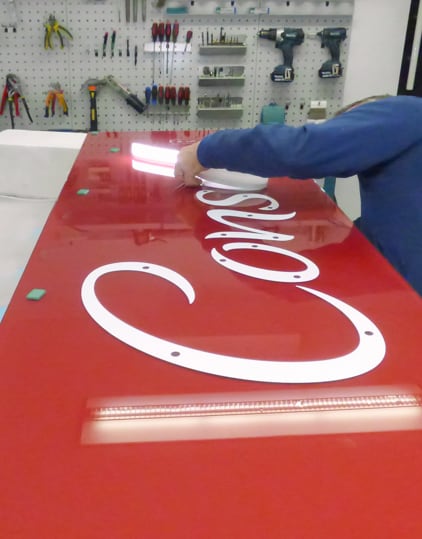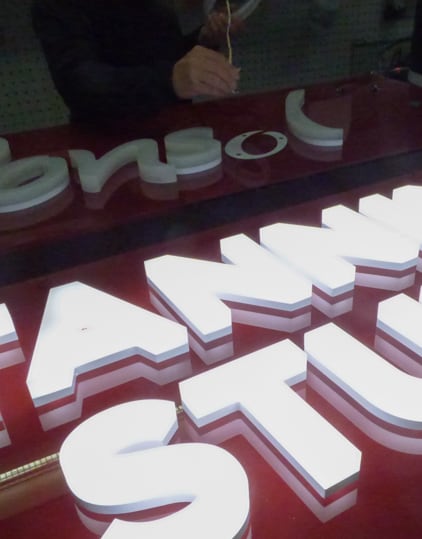 CLICK ON ANY PICTURE AND WE'LL SEND YOU A PERSONALISED INFORMATION PACK
The latest shopfront signs for Consol took the Voodoo survey team to Farnborough in Hampshire. One look at the site told the team that it wasn't going to be business as usual for Voodoo and Consol. The location's construction dictated that major elements of the fascia sign be manufactured not from the plastics and metals that are the usual basis for Consol's shop signs, but from glass.
Voodoo has made signs for shops from all manner of material but glass is only an occasional visitor to the Voodoo DesignWorks. Job on. Working with the data gathered by the Voodoo survey teams and within the parameters dictated by the location and Consol's corporate ID, the signmaking team got to it.
The result is a laminated glass foundation for the fascia shopfront sign. Within its construction, a layer of digitally printed colour imparts the familiar background field and this contrasts with fabricated LED-lit perspex lettering fixed to drilled locations in the glass plate. It's a shop sign that looks great in daylight conditions, and it really pops at night too.
Book an online presentation and discussion with us at a time that suits you.
Voodoo-Connect delivers a live, broadcast-quality video and audio presentation and discussion from us to you and its streamed live right to your desktop and as many people as you need to invite. We can discuss your project, you can all see our samples, tour our facility and more – no need for a camera at your end because we don't see you or your colleagues.
Voodoo Connect – It's a great way for us all to discuss your project live and the quality is simply amazing.
Book your appointment now.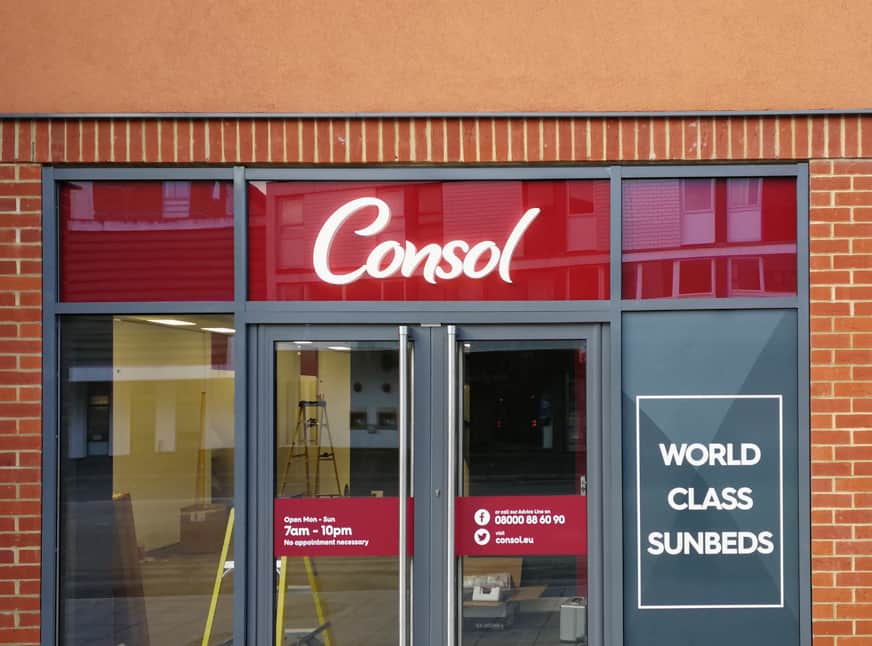 If you're ready to discuss your project we're ready to listen. Let's get your ideas on the table and move your sign project forward.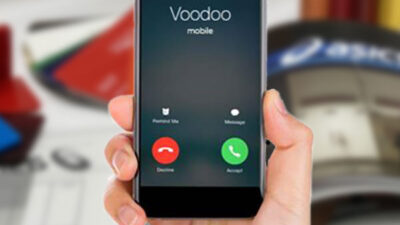 "One of our best," we all agree at Voodoo. Shopfront signs have evolved. A painted board or a handful of profile lettering no longer cuts through the clutter that typifies most high streets. When fascia signs are on a brand's shopping list and the job comes the way of the Voodoo DesignWorks, creativity finds a way.
Nice one Consol. That's a shopfront fascia that really does the business justice.
Get in touch with Voodoo and we'll help your business too.