Here's how Voodoo delivers graphics that work anywhere there's a blade of grass or two…
In terms of uncharted space where graphics are concerned, floors are right up there. You do see a floor graphic here and there, and, if we get our way you'll see a lot more of them. That's because they work and because our customers look to us for solutions that deliver.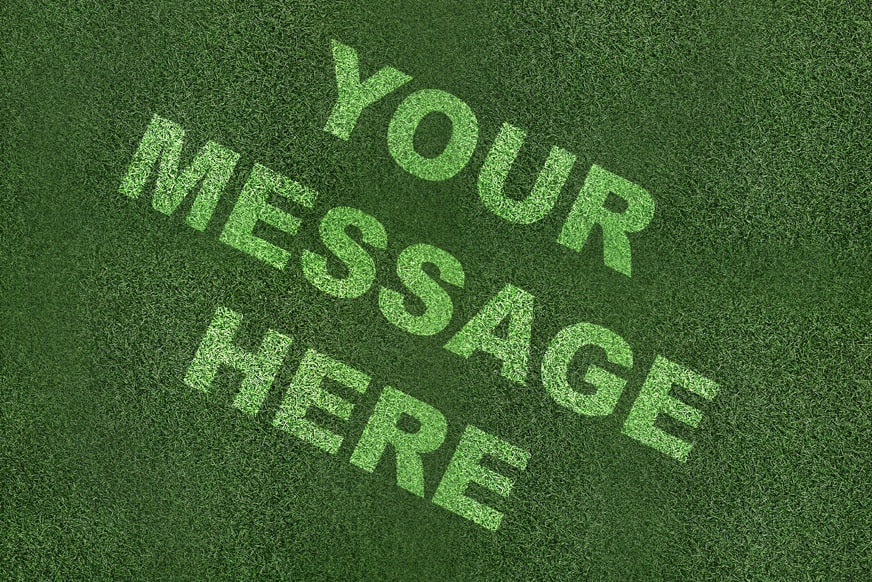 Some "floors" are a bit more "graphics ready" than others. Tiled flooring indoors = easy. Expanses of grass outdoors = not quite so straightforwards. We're Voodoo though – no challenge resisted.
Clearly, you can't easily stick printed materials to grass. Rip it up and there goes the lawn for six months while it recovers. That leads us gently by the hand to specialist paints. The sort of paints that are used to mark out pitches, courts and other sports surfaces. Add a bit of Voodoo to that formula and you have a grassy graphic.
Getting the paint down in a controlled manner is the next challenge and doing it repeatably and at scale winds up the difficulty knob a bit further still. We overcome though – with imaginatively created and colour coded stencils.
We take some known materials and we cut and assembly them to form a stencil. Peg it out under a bit of tension and paint through the apertures presented in the prescribed colour. Unpeg and remove the stencil and there's your grassy graphic. It washes away eventually, or grows out over time, so no permanent evidence of your temporary graphics remains.
Pick up the phone to Voodoo and we'll happily make the journey on to your turf if you think this is an idea you'd like to play with. The stencil will work time and again so it's going to be a very cost effective solution.
Here's our number – ask for Mark –