Shopping Centre Signs maker – Voodoo DesignWorks was responsible for the shopping centre signs and the popular retail development's look and feel of a certain outlet centre. That outlet centre is Gloucester Quays who attract top quality occupiers. Among its recent arrivals – Calvin Klein. Shopping Centre Signs often obey by rules which contribute to an harmonious interpretation of shopping centre's branding standards and we use these rules to inform basic sign design.
Voodoo worked with Calvin Klein designers to reach an approved design that worked for the Calvin Klein brand, and for the Gloucester Quays retail development. From there, it was a case of letting the brief loose in the Voodoo production department.
We always use the right materials when it comes to Shopping Centre Signs because quality matters. The team started by cutting 20mm thick lettering from clear Perspex acrylic. We meticulously flame polished the lettering so as to yield a glassy edge. The Voodoo team then backed the lettering with a specialist diffuser made from acrylic. The added prismatic diffuser pattern embossed added its own nuances to the light.
The tray for the sign was routed by the Voodoo production department from specialised bonded aluminium which was then folded to the required shape so forming a structure. Apertures for the lettering were cut and the assembled letters pushed through the apertures and secured.
Let's send you a brochure…
It's amazing what the Voodoo DesignWorks could do for you. It's all in our brochure and we have one with your name on it.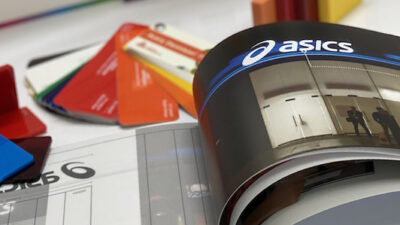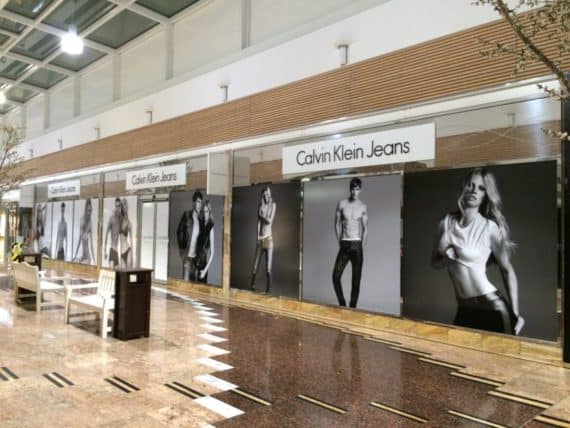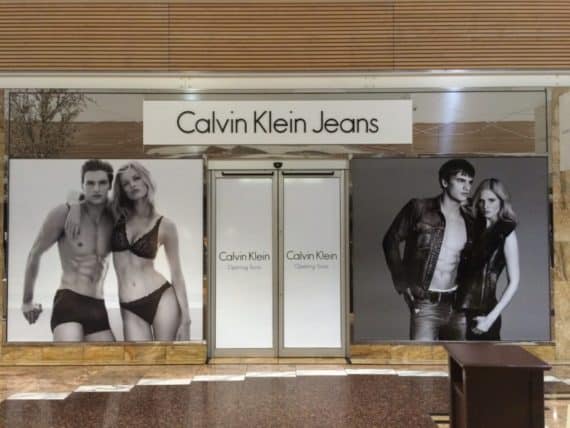 The sign's even and bright illumination is provided by an array of LEDs in the fabricated sign tray. Because LEDs run cooler than the fluorescent illumination sources of old, don't drift off colour and they start reliably at the flick of a switch and as a result use less energy. They also make it easier to get illumination to distant corners and they're relatively robust.
Installation of the sign at the shopping centre was straightforward. Because the Voodoo installation team are no strangers to the shopping centre, or to shopping centre signs, access was easy. Thanks to good preparation, the installation fits like a glove. Client is happy. Shopping centre is happy. One more shopping centre sign delivered by Voodoo.
The face of retail development has changed out of recognition since the advent of the shopping centre. Making signs for shopping centres requires that the centre itself and its overall branding works with the its clients and occupiers.
Book an online presentation and discussion with us at a time that suits you.
Voodoo-Connect delivers a live, broadcast-quality video and audio presentation and discussion from us to you and its streamed live right to your desktop and as many people as you need to invite. We can discuss your project, you can all see our samples, tour our facility and more – no need for a camera at your end because we don't see you or your colleagues.
Voodoo Connect – It's a great way for us all to discuss your project live and the quality is simply amazing.
Book your appointment now.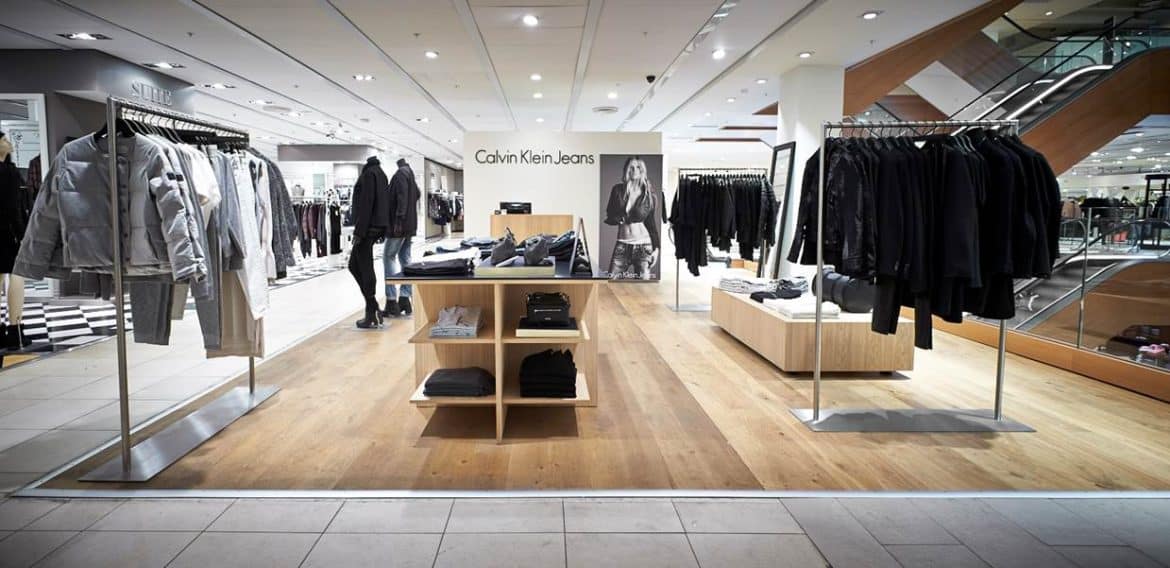 Standards therefore exist which mandate, for example that doors are open during business hours and that window graphics meet certain prescriptions and maintain sight-lines into stores therefore improving the shopping experience.
Voodoo understands. and works within these and other prescriptive branding guidelines. Voodoo delivers signs for shopping centres which satisfy both sides of the need for brand compliance and Voodoo manages the whole process from branding liaison with the shopping centre, projects advance seamlessly. Thanks to this total approach, shopping centre signs by Voodoo sail through approvals and consequently deliver the client genuinely superior value.
Calvin Klein at Gloucester Quays is just one example. We've been involved with many other shopping centres and retail outlets.
Tony Baxter, Director of Voodoo comments. "Working with shopping centres is a major part of life at Voodoo. Consequently, we've found ways of working to the tightest of brand compliance standard and delivering what retail clients need. It takes creativity and inventiveness. No shortage of that here. Get in touch with us and see what can fo for you."
If you're ready to discuss your project we're ready to listen. Let's get your ideas on the table and move your sign project forward.