'Tis the season. And that means all manner of seasonal and temporary attractions are going to spring up in shopping centres, and that thousands of shoppers are going to descend upon them. Making sure that each and every shopper can find what they've come to see, means temporary signs pointing the way.
Voodoo is no stranger to wayfinding signs, or designing and installing them. On this occasion though, our client, Gloucester Quays, wanted something a little different than sign-systems as usual. A bit of head-scratching and a few 'phone calls and we were on our way. We knew it had to be rustic. It had to be very obvious. It had to be eye-catching too.
The Voodoo solution was a 'system' fabricated entirely from wooden components. The signs' footings are barrels – whiskey barrels to be exact. We have some great talent aboard the good ship Voodoo but there isn't a cooper in our midst. So, we did what any self respecting creative collective would do and we found the barrels we wanted and shook hands on a deal to make them ours.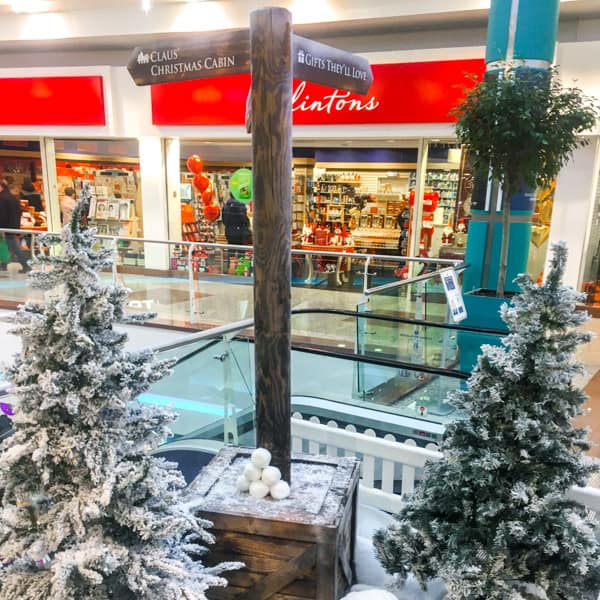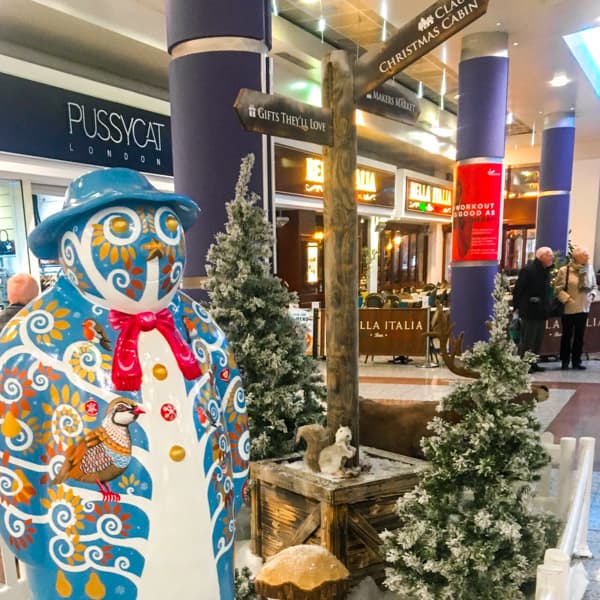 Let's send you a brochure…
It's amazing what the Voodoo DesignWorks could do for you. It's all in our brochure and we have one with your name on it.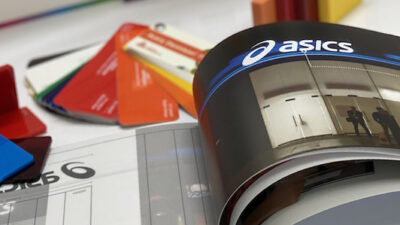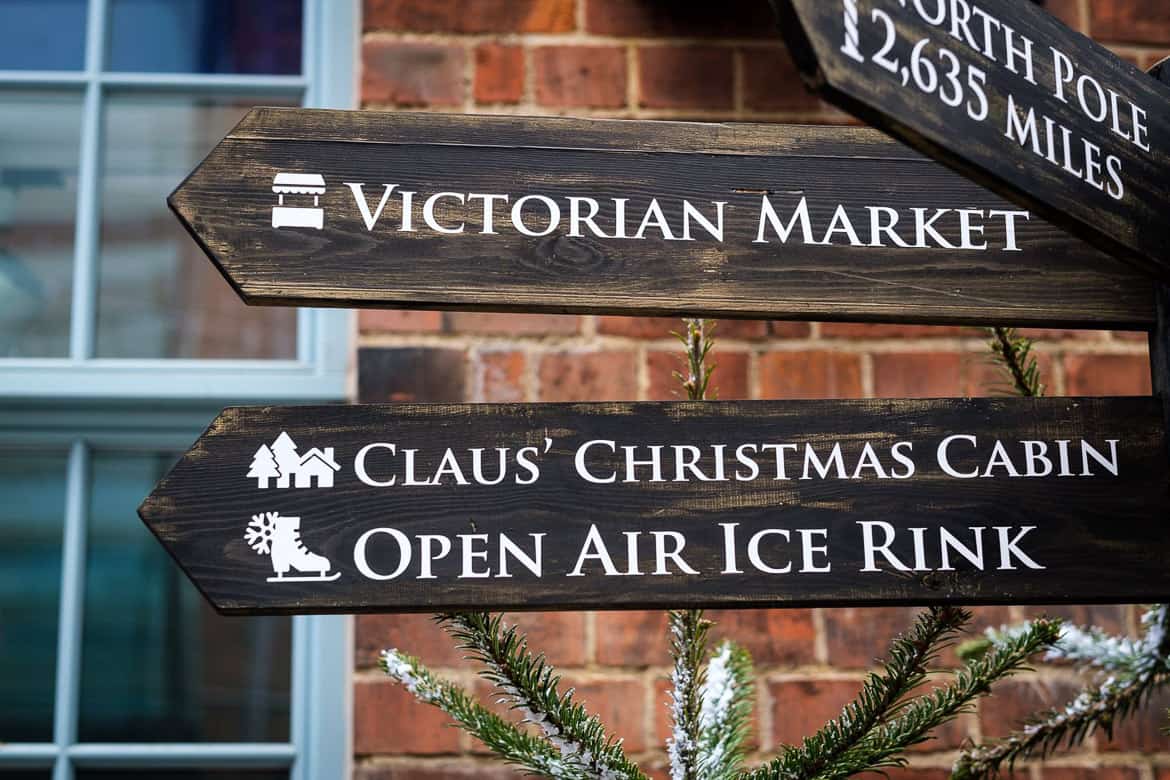 THE HARD BIT WAS YET TO COME
Next up, posts. Posts are simple and that's what these proved to be. We found some nice, straight, treated timber posts, round in section, with the right kind of knotting and markings and we dragged them back to The 'Works.
Finger panels to mount to the posts and which would point the way to our client's destinations were next. That meant finding some wood that fitted with the general look and feel of our other components which, to be fair, wasn't hard to do.
The hard bit was yet to come.
We next had to turn our disparate components into signs. There's loads of hardware available to sign makers for fixing fingers to posts and posts to footings. It's hardly in the spirit of 'Saint Rustic' though to use precision milled aluminium brackets and cast alloy footplates so we elected to go 'The Way Of Wood.'
We were going to use our big Tekcel router to mill the slots required into the signs' finger panels and then fit them to the posts. Problems was, the chunky posts didn't actually fit under the router gantry. Too big! Oh no. We'd have to do it by hand.
So we did.
Book an online presentation and discussion with us at a time that suits you.
Voodoo-Connect delivers a live, broadcast-quality video and audio presentation and discussion from us to you and its streamed live right to your desktop and as many people as you need to invite. We can discuss your project, you can all see our samples, tour our facility and more – no need for a camera at your end because we don't see you or your colleagues.
Voodoo Connect – It's a great way for us all to discuss your project live and the quality is simply amazing.
Book your appointment now.
CLICK ON ANY PICTURE AND WE'LL SEND YOU A PERSONALISED INFORMATION PACK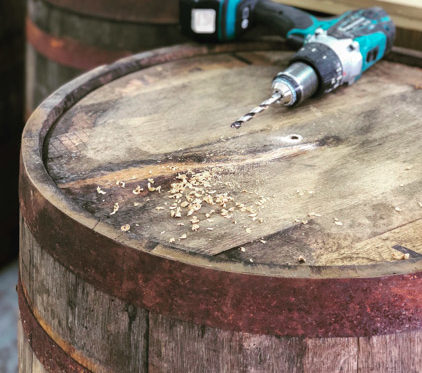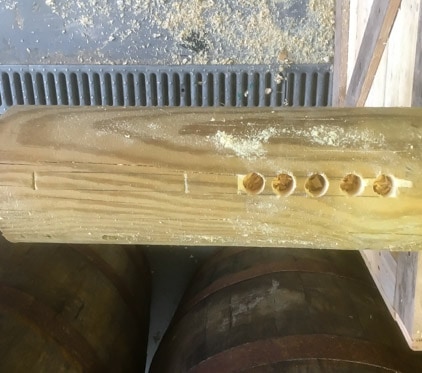 We're fortunate in having James work for Voodoo. James is our senior estimator, project manager and something of a signage guru. There's little that happens in or around Voodoo that James doesn't have some present or past experience with and, it turns out, he's pretty handy with a wood chisel. Once James had done his chipping and chopping stuff, our shaped and lettered panels were inserted into the posts and they look great. Not too precise. Not too sloppy. Just right.
Fitting the posts into the barrels was not that challenging. We just had to cut holes in the tops of the barrels and the rest followed. With all the signs assembled we set them out in the Voodoo car park for a photo shoot.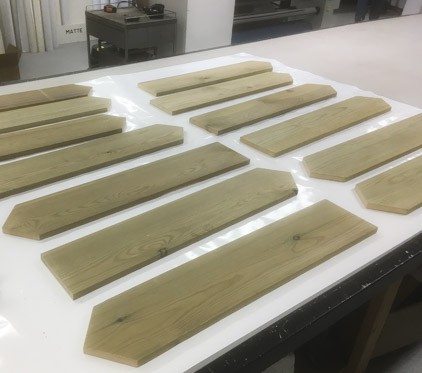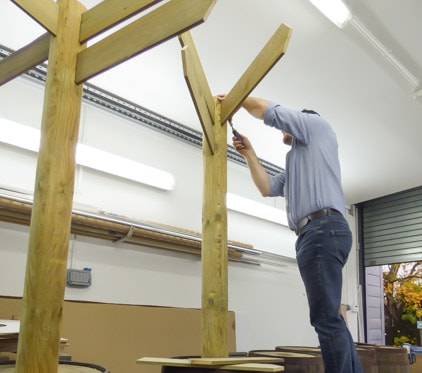 "WHY'S JAMES SETTING FIRE TO ALL THOSE SIGNS HE MADE?"
James had managed to find himself a very large blow torch and was, indeed, trying to set fire to the signs we were about to photograph. Turns out though, it was the finishing touches being applied to give the rustic wayfinding signs the ultimate in rustics finishes. Count on Voodoo to get it right. These signs don't just look rustic – they smell rustic too.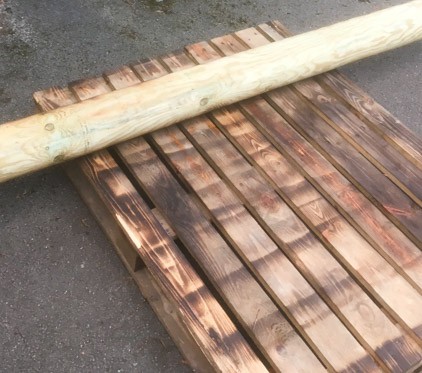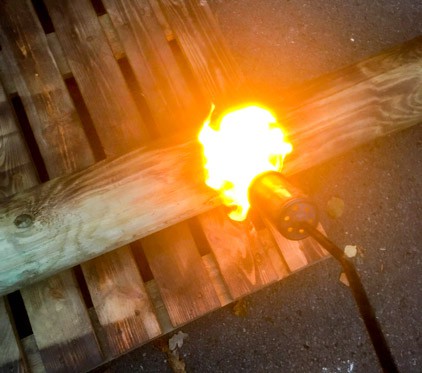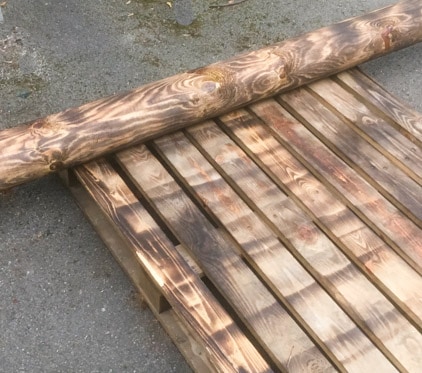 Crisp, cut and applied lettering in white complete the ensemble and recognises that signs, no matter what the design intent, have to be legible. The applied lettering contrasts nicely with the scorched background so that's another tick in the box this unusual wayfinding system scores.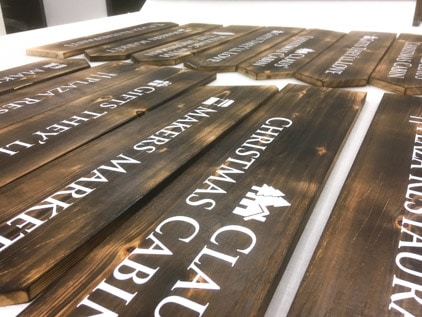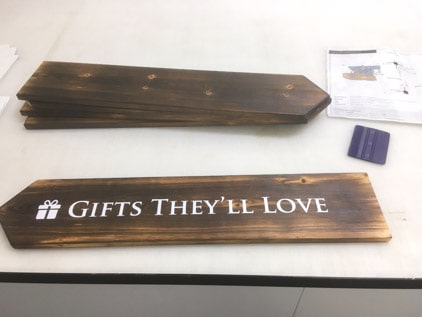 Our client is pretty happy with the result and we are too. Just goes to show that great things are possible with the right materials and a bit of creative energy pointed in the right direction. Thanks to James, the signs are pointed in the right direction too.
Christmas is that way.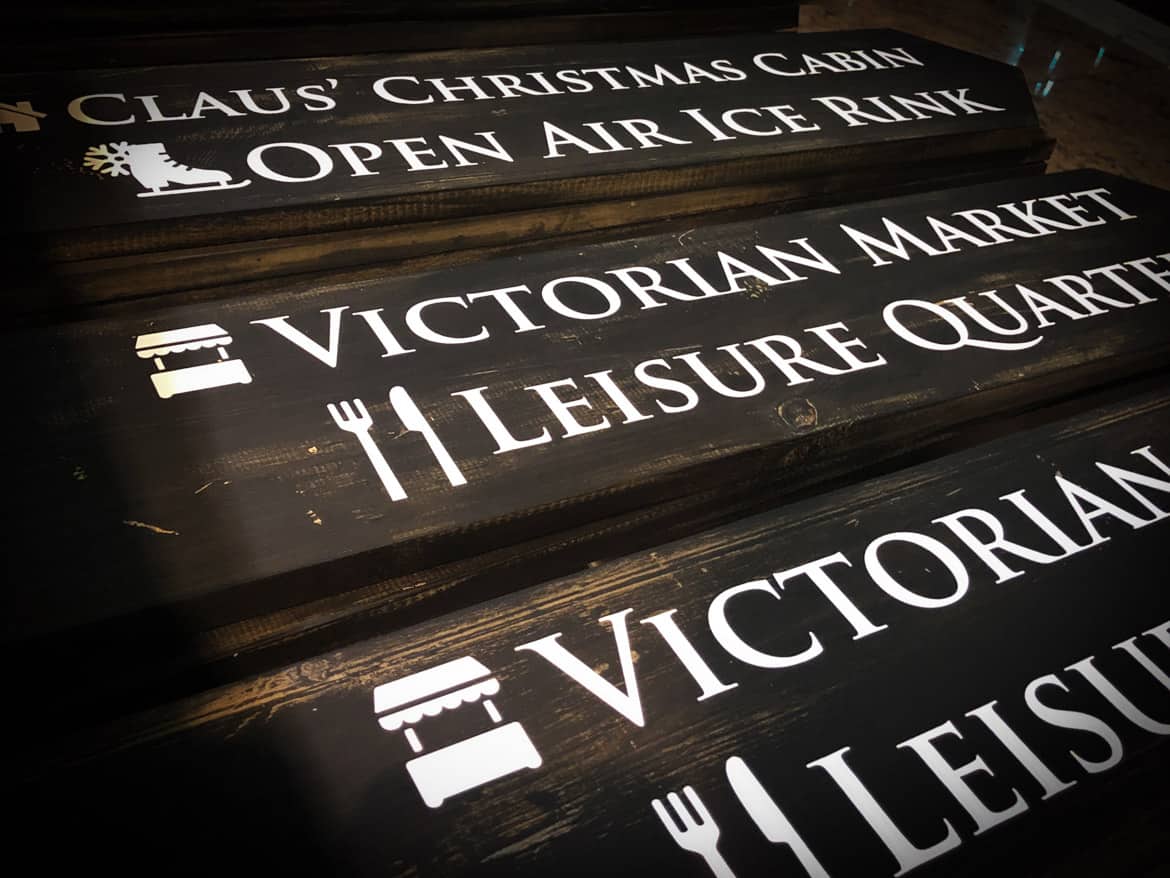 If you're ready to discuss your project we're ready to listen. Let's get your ideas on the table and move your sign project forward.